Utomi urges INEC to investigate alleged withholding of PVCs in Lagos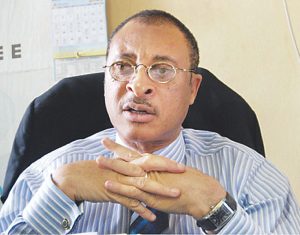 By Adeleye Adeyemi
Political Economist, Prof. Pat Utomi on Monday, urged INEC to investigate allegations of witholding/non issuance of Permanent Voters' Cards (PVCs) to electorate in Lagos State.
Utomi, the Convener and Chairman of the Big Tent Coalition for Obi-Datti presidency, urged the commission to look into allegations of deliberate plan to defranchise people by making collecting the PCV difficult for some group of people in the state.
He made the call at the inauguration of the Lagos state chapter of the Big Tent coalition for Obi-Datti.
"NEC must consider this alleged abuse as a violation of the electoral Act and act in an accountable manner on the matter and tackle it headlong."
He lamented the destruction of campaign materials of Labour Party candidates saying: "Tearing up the posters of others and beating up citizens for wearing vests of other parties is far from civilised conduct and unbecoming of people who claimed to be progressives and enlightened.
"The use of area boys and toughs to intimidate and threaten voters in Lagos state is said to reach proportions of taking some people to the international criminal court.
"A new modern Lagos state ought to be an arena of democratic freedom."
Utomi urged the newly inaugurated executive to focus on issues and to turn the other cheek wherever they encountered insult.
"Your work, your campaign and your commitment must show example. Thank God you have elders and fathers.
"Ta lo sope anni baba. Like Afenifere leader Chief Ayo Adebanjo and also many people of conscience like Femi Falana, SAN behind you, there is no room for failure," he said.
Utomi said: "I feel a great sense of fulfillment at the inauguration today of the Lagos state BIG TENT executive council and campaign team.
"When we began to roll out the BIG TENT structures, we were audacious and we expected a lot, some said, a miracle. What has emerged now appears, surpasses even that audacious expectation.
"Today we have gone through congresses and produced an exco in every state of the federation. It is natural therefore that I feel so proud to be inaugurating the Lagos state Exco today knowing that we have membership around at every polling station in Nigeria.
"But before you get carried away, let me remind you that the reward for hard work is more work, and that there are many challenges to put your energies. I want to challenge you in Lagos, particularly with a phenomenon taking the shine off our democracy."
According to him, the phenomenon is voter intimidation, vote suppression and related forms of voter disenfranchisement.
"From the loud protests, it now seems like a practice of electoral genocide confronts you in Lagos. But the English overcame and got the Magna Carta in 1215. We must in Lagos in 2023," he said.
The News Agency of Nigeria (NAN) reports that the Big Tent is a coalition of some political parties and civil society groups for the actualisation of the presidential ambition of the Labour Party Presidential Candidate, Mr Peter Obi. (NAN)
=========
Edited by Chioma Ugboma