Why we emphasize peace-building in Delta – Okowa
Delta Governor,  Dr Ifeanyi Okowa, said his administration prioritised peace-building and partnership among communities to make the state investor-friendly.
Okowa stated this in Asaba on Thursday while receiving awards from oil companies operating in the state, and said that partnership among the companies, communities and the state government ensured that development was evenly distributed.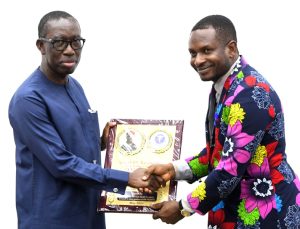 He pointed out that peace-building was better than crisis-management, and urged the incoming administration to sustain meaningful peace-building platforms for the continued development of the state.
The governor stated that his administration believed in the partnership with the organizations, saying "we knew from the beginning that we needed the oil companies and the oil companies needed us and in that warm friendship and partnership we could both thrive better.
"There are so many levels of partnership we have to build because from the beginning, we came with the agenda of peace in preference to crises.
"Peace-building does not totally ensure that there is no crisis, but when there is a crisis, we manage the crisis. We are to build peace to limit the level of crisis, duration of the crisis and we have believed in that.
"We want to reassure you that by the special grace of God, Delta State will continue to be in peace and ensure that we have the best as well as the operational environment which you need to grow in your industry.
"This does not mean that we did not have issues along the line; there is no doubt that we have had issues at some point between you and various communities.
"But, ours is to continually intervene and it is for me to properly brief the incoming administration on the need to continue to build peace and to build this partnership because it worked for us."
Earlier, leader of the delegation and External Relations Manager of Shell Petroleum Development Company, Mr Evans Krukrubo, had said that oil companies in the state honoured the governor for his contributions to operational excellence which had made the state investor friendly.
In a related development, two groups – Forum of Presidents-General of Communities in Delta and Association of Resident Doctors of Delta State University Teaching Hospital (DELSUTH), Oghara, gave awards to the governor for "excellent performance'' in the state.
The governor urged medical doctors and other health service providers in the state to continue to be committed and dedicated in providing excellent services to the people.