Onukaba, Ugoji: How Atiku Shamed Death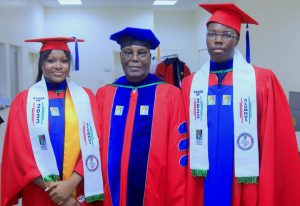 By Tunde Olusunle
Veteran Nigerian composer, singer, instrumentalist, band leader and undisputable legend of *juju* music, King Sunny Ade, abbreviated *KSA,* released a classic early 1976. It was in the immediate aftermath of the assassination of Nigeria's charismatic military Head of State at the time, General Murtala Ramat Mohammed by mutineers on Friday February 13, 1976. Bukar Suka Dimka, a cranky army Lieutenant Colonel led the operation which denied Nigeria the leadership of a courageous and visionary Mohammed, who grossed so much in performance within his shortlived six months in office. Ibrahim Taiwo a Colonel who was Military Governor of Kwara State, was simultaneously extinguished same day, in the same coup which was supposed to have been a nationwide pogrom. The worlds of the families, dependants and admirers of the deceased, came crashing down arising from that moment of madness. Sunny Ade, very aptly described February 13, 1976, as the "day the devil drank several cups of blood," in the lyrics of that evergreen song.
That same harbinger of evil, mortal mischief and mass lachrymose was on duty, Sunday March 5, 2017, on the Ilesha-Akure-Owo highway. Renowned journalist, biographer and playwright, Onukaba Adinoyi-Ojo was returning from Abeokuta where he attended the "induction" of former military and civilian President, Olusegun Obasanjo, into the club of septuagenarians. As has become our collective misfortune in recent years, daredevil robbers were said to be operating at a spot before Akure, the Ondo State capital. Spontaneous commotion gripped commuters. Some drivers made 180 degree turns to avoid encountering the wasters. Some other drivers hurriedly parked their vehicles and bailed into vegetation and flora on the sides of the road. Onukaba was one of those who instinctively sought refuge in the bushes. A vehicle which ran into the robbers ambush lost control and headed straight for Onukaba's temporary sanctuary… It was a few days to his 57th birthday.
As Africans, the family, immediate and extended, is our "social security." We support one other on the basis of the faintest of genealogical connections. Expressions like "step mother," "half brother," "cousin," "niece," "auntie" and so on, have no space in our traditional lexicon. Onukaba was the vertebral column of his family, nuclear and global. Within his little means, he supported the education of his siblings, including half-brothers and sisters, and also foraged for jobs for them upon graduation. He had his own biological family, his wife, son, Asuku, and daughters Ebikere and Onyeche to tend, even as he wholly adopted Zulaiha his maternal niece. The worlds of his benefactors surely came crashing down, as the devil ingratiated itself with a tumbler of crimson blood.
In this confusion, Onukaba's erstwhile Principal, Nigeria's former Vice President, Atiku Abubakar, instantaneously offered a lifeline. Onukaba's children were pretty young, with Asuku the eldest just 14 and in secondary school. Maimunat his new wife was nursing Baby Onyeche. Onukaba's earlier wife, Rachael, died eight years earlier. Atiku thus established an *Adinoyi-Ojo Onukaba Endowment Fund* and constituted a Board of Trustees, under my chairmanship. Atiku put down the seed money for the operation of the Fund, which was also supported by a number of other concerned people. Dr Yemi Ogunbiyi, Senator Ben Obi and Garba Shehu, were some of the do-gooders.
At the formal launch of the Endowment in May 2017, Atiku offered 100% scholarships to any of Onukaba's children who desired to study at the American University of Nigeria, (AUN), Yola. Saturday May 27, 2023, Asuku Oshione Onukaba was one of the proud graduates of the AUN at a colourful convocation which took place at the institution. He has come to see me as a hybrid father and uncle especially recalling the relationship between my family and theirs back in the days. He studied Software Engineering, having collaborated with his friend and classmate, Aliyu Suleiman in developing *CourseBuddy: An Online Platform for Sharing Course Materials* as their final project. He earned a Second Class Upper grade. His ecstatic step-mother, Maimunat, attended the event and fed us with real-time photo updates.
A particular photograph which trended in the media from that graduation ceremony was that of Atiku flanked by a lady graduand and Asuku. That was Chinememma Emma-Ugoji, daughter of Emma Ugoji, a former communications strategist who worked in the *Atiku Media Office,* (AMO), which the former Vice President has maintained for over 15 years. Ugoji died in an automobile crash in April 2021, en route his home after work. His daughter, Chinememma was already a student of AUN before her father's demise and Atiku simply picked up her bills. Atiku thus, literally held the oesophagus of death the grim reaper and deflated the balloon of its hubris. He then pinned down its accursed backside on the mat, inflicting it with a decisive knockout, from the aspirations of both youngsters. His intervention at very crucial intersections in the lives of both kids among several others he has so fostered, has set them on the steady path to the attainment of their dreams and desires.
Asuku Onukaba articulated a very moving tribute in which he extolled Atiku's spectacular kindness. According to him: "Your kindness in providing me with a scholarship has greatly impacted my life and allowed me to pursue excellent education which I would always be grateful for. Continuing, the young Onukaba noted: "My time at AUN has been nothing short of amazing. The university's commitment to academic excellence, diversity and community engagement has provided me with exceptional learning experience that has broadened my knowledge and perspectives. The supportive and inclusive environment at AUN has allowed me to thrive both academically and personally. I am grateful for the lifelong friendships and invaluable experiences I have gained during my time at the university."
Chinememma Emma-Ugoji is overwhelmed by the patriarchal generosity of the Founder of AUN, Yola and her benefactor, Atiku Abubakar. The cub attorney is unable to immediately express her depth of appreciation to the erstwhile Vice President: "I cannot at this moment fully express my gratitude to His Excellency, Atiku Abubakar, GCON, for granting me a full scholarship to complete my education at AUN. Your investment in me, means the world to me and my family and has opened up a world of possibilities and opportunities for me to be an AUN alumnus." Speaking further, Chinememma noted that Atiku's "handsome generosity has enabled the actualization of my dreams." She concluded thus: "Thank you from the bottom of my heart for believing in me and investing in my future. Your kindness and selflessness will never be forgotten."
For Atiku himself, the 2023 edition of the AUN Commencement (convocation or graduation in regular communication), was special. He said on his twitter handle: "This year's American University of Nigeria Commencement Ceremony was personal to me. It marked the graduation of the children of my late aides who were on our full scholarship: Ms Chinememma Emma-Ugoji and Mr Asuku Onukaba from the departments of Law and Software Engineering."
The humane streak in Atiku's constitution is ever dominant in his thoughts, convictions, decisions and actions. He wishes he could help the whole wide world, not with marinated and barbecued fish, but with the capacity to be sustainably successful fishermen. Listening, caring, helping, giving, sharing, that whole gamut of philanthropy are his second nature. Fifteen of the *Chibok girls* of the 2015 saga who were kidnapped in their school in Borno State and taken to captivity by insurgents, were also educated in AUN on Atiku's bill. He is an astute believer in the fact that given the right education, instruction, exposure and support, the sky is just the step-board for man's attainment of his goals and aspirations in life.
The Guest Speaker at the 14th Commencement of AUN was the President of the African Export-Import Bank, (Afreximbank), Professor Benedict Okechukwu Oramah. He commissioned two new buildings in the university to accommodate the Schools of Law and Engineering respectively, as the institution continues to receive global plaudits for top quality teaching, learning, research, mentoring and innovation. This has necessitated the expansion of facilities in the infinite mass of the university campus, a project to which Atiku is wholly committed. Chairman of the Board of Trustees, Ben Obi, CON, and the Adamawa State Governor, Umaru Fintiri, witnessed the programme.
Oramah told the graduands at the lecture to gird their loins for the battle to restore Africa's dignity. He observed that Nigeria and the African continent are deep in the fight for economic independence, which will define the future of Africans or otherwise. Oramah reminded the youths: "The quality of education you received in this university has prepared you for the world. You will always aim for the best and never be content with substitutes. You must never allow yourself to be consumed by those negative attributes that divide us as a people because you can thrive without them and help us to build a better Nigeria." The new AUN President, (Vice Chancellor), De Wayne Frazier, reminded the outgoing students of the transformation the institution had accorded them. "Take that power you have as education and make the most of it," he admonished the students."
Tunde Olusunle, PhD, poet, journalist, scholar and author, is a Member of the Nigerian Guild of Editors, (NGE)