Olympic Committee mourns Akintola Williams, a visionary leader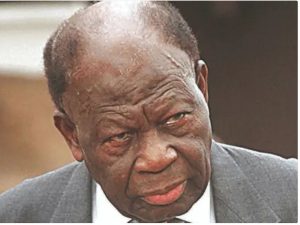 The Nigeria Olympic Committee (NOC) is deeply saddened to hear about the passing of Chief Akintola Williams, a true icon and pioneer in the world of accounting.
Akintola Williams was a founder and Senior Partner in Akintola Williams & Co.  The company later merged with Deloitte & Touche.
His remarkable journey has left an indelible mark on the Nigerian business landscape and beyond. Please accept our heartfelt condolences during this incredibly difficult time.
A condolence message on behalf of Engr. Habu Ahmed Gumel President, NOC Tony Nezianya,  Public Relations Officer,  notes that Williams, 104, has not only been a visionary leader but has also been a selfless individual, as evidenced by his company's pro bono work for the Nigeria Olympic Committee.
Akintola Williams & Deloitte's auditing of NOC accounts for more than two decades has helped the committee to strengthen its accounting reporting to date.
His dedication and commitment to serving the community have been truly admirable, and his legacy will continue to inspire generations to come.
We acknowledge the invaluable services rendered by Akintola Williams & Deloitte Accounting firm, which has undoubtedly shaped the accounting profession in Nigeria.
Chief Williams'
audacious efforts and unwavering integrity have set new standards, making a lasting impact on the country's economic growth.
As we reflect on Chief Akintola Williams' extraordinary achievements and contributions, let us also remember the profound loss felt by his family. We hope that the memories shared and the admiration shown by so many can bring some solace during this time of bereavement.
May his gentle soul find eternal peace and his remarkable legacy endure through all those who have been touched by his work.
Our thoughts and prayers are with you, extending our deepest sympathies to the whole family. May you find strength, love, and support from one another and the wider community as you navigate this painful journey of grief.
With profound sympathy,
Tony Nezianya
NOC PRO, September 18, 2023