Akpabio Felicitates Akinrinade At 84: An Icon of National Unity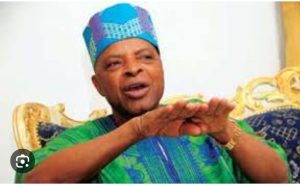 The President of the Senate, Godswill Akpabio, has rejoiced with Lieutenant General Alani Akinrinade (rtd.) on the occasion of his 84th birthday.
Senator Akpabio, in a message endorsed by his Special Adviser, Media and Publicity, Hon. Eseme Eyiboh, described Akinrinade as an enduring icon in the struggle to keep Nigeria one.
Noting Akinrinade's role in keeping Nigeria as a nation bound in Unity, Faith , Peace and Progress, he said:
"Your patriotism is seen in the heroic role you played in the fight for Nigeria to remain an indivisible nation. You did not, like some, walk away from the line of battle, but made the personal sacrifice in the quest to keep the fabrics of our statehood."
Recalling Akinrinade's exemplary role as Chief of Defence Staff in subjugating the military class to civil rule during the Second Republic, Akpabio noted,
"Your role as Nigeria's number one soldier in espousing the doctrine of the subjugation of the military class to civil authorities is one that till today, continues to inspire awe among those who know your story."
"Even after your exit from the military you continued to hold on to this doctrine of civilian control over the military, hence your heroic battle for the enthronement of democracy even as a retired general.
"You, indeed, earned a second epithet as a General in the NADECO Army and your role in the enthronement of the Fourth Republic is replete in literature and records of the pro-democracy movement, adding, as you celebrate today, I enjoin you not to relent in your watch over our democratic space and to in words, prayers or otherwise give our present leaders the necessary guidance and directive.
"As you celebrate, I pray God in His goodness to give you more grace that you would witness the fruits of your struggles come to fruition, even as you mature into your hoary years.
I wish you a Happy and Flourishing Birthday sir!".