2023: Tinubu accuses Buhari Govt of using fuel scarcity, naira redesign to sabotage his chances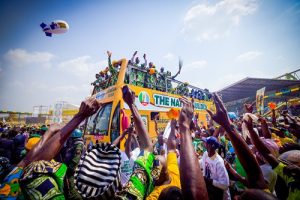 The presidential candidate of the All Progressives Congress (APC), Bola Ahmed Tinubu, on Wednesday, accused the Buhari government of using the current fuel scarcity and naira redesign to sabotage his chances in the 2023 general election.
He disclosed this during the APC presidential campaign at the MKO Abiola International Stadium, Kuto, Abeokuta.
He conjectured the fuel crisis and the scarcity of the newly redesigned Naira notes were artificially created to discourage Nigerians from voting for the APC.
He however reiterated his earlier promise that his administration would also introduce a student loan programme that would ensure that no Nigerian student is unable to complete his or her education because of school fees.
"There will be a student loan, nobody will drop out of university because of school fees, I guarantee you that.
"Nobody will have to repeat one class for eight years and not graduate.
"We are too smart, we are brilliant, we are courageous, we will make a four-year course be a four-year course," he said.
Tinubu who did not mention names alleged that the fuel scarcity was artificially created to sabotage his presidential ambition
He also alleged that some persons were plotting against him and  hatching plans to scuttle the 2023 election, stressing that nothing would stop him from emerging victorious on February 25.
He said: 'Let them change the ink in Naira notes'
"Even if they said there is no fuel, we will trek to vote. They have a lot of mischiefs, they could say there is no fuel.
"They have been scheming to create a fuel crisis, but forget about it. Relax, I, Asiwaju have told you that the issue of fuel supply will be permanently addressed.
"Whoever wants to eat the honey embedded in a mountain won't worry about the axe. Is that not so?
"And if you want to eat palm kernel, you would bring stone and use it to break it, then the kernel will come out.
"Let them increase the price of fuel, only they know where they have hoarded the fuel.
"They hoarded money, they hoarded naira; we will go and vote and we will win. Even if they changed the ink on Naira notes, whatever their plans, it will come to nought.
"We are going to win. Those in the PDP will lose (won ma lule).
"I am a homeboy, I have come here, you will not be put to shame, we will take over the government from them, the traitors who wanted to contest with us, they had no experience", Tinubu said.
"This election is a revolution. They are plotting, but they will fail. They said fuel price will increase and reach N200 per litre. Go and relax."