Abacha loot still among world's biggest corruption scandals over the last 25 years
January 17, 2022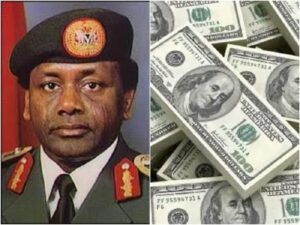 The primitive looting of Nigeria's public till by the late General Sani Abacha, former Nigerian military ruler, is still ranked among the top 25 financial scandals in the world in the last 25 years.
In a detailed publication which considered outrageous stealing of public funds around the world by both public and private individuals and corporates, Transparency International x-rayed several corruption scandals with global Impact.
According to Transparency International (TI), "we compiled a list of some of the biggest corruption scandals over the last 25 years that inspired widespread public condemnation, toppled governments and sent people to prison. These scandals involve politicians across political parties and from the highest reaches of government, staggering amounts of bribes and money laundering of epic proportions."
Transparency International once reported that Abacha may have stolen up to $5bn between 1993 when he assumed office and 1998 when he died in what is still regarded as a mysterious death.
Abacha was not the only Nigerian leader linked with looting of  public funds, In fact, all past Nigerian leaders have been linked to direct or vicarious stealing of the nation's assets but that of Abacha holds the ace not so much because he was late but because since his demise, every Nigerian government has had part of stolen money returned by original 'beneficiary' nations.
Money recovered by the Nigerian government, popularly called Abacha Loot were stashed away in four major countries: Switzerland, Jersey Island in United Kingdom, United States and Liechtenstein and the recoveries started shortly after his death.
For instance, during the Abdulsalami Abubakar regime in 1999, $750 million was recovered.
Under the Obasanjo administration, $1.2 billion was recovered in 2002; $149 million from Jersey Island, UK in 2003; $500 million recovered in 2004 from Switzerland and another $458 recovered in 2005 from Switzerland.
Under Goodluck Jonathan administration, $1 billion was recovered in 2012 and $380 million in 2015, both from Switzerland. The Jonathan administration also recovered $227 million from Liechtenstein in 2014 and $48 million from the United States the same year.
The Buhari government has recovered $322 million from Switzerland in 2017 and $308 million from Jersey Island, United Kingdom in February 2020.
Below are the top 25 corruption cases captured by TI. Note that apart from the listed case at No.2, Nigeria also featured in both the Panama and Paradise Papers.
Siemens: corruption made in Germany
Draining Nigeria of its assets which essentially captured Abacha loot
Fujimori's Peru: death squads, embezzlement and good public relations
Kadyrov's Chechnya: bikers, boxers, bribes
Shutting down competition in Tunisia
Ukraine's missing millions
Ricardo Martinelli's spy-game in Panama
The 1MDB fund: from Malaysia to Hollywood
The Russian Laundromat (with a little help from Moldova)
Spain's largest corruption scandal: Gürtel
Venezuela's currencies of corruption
The Panama Papers
Maldives: a paradise lost
Teodorín Obiang's #LuxuryLiving in Equatorial Guinea
How the Gupta family captured South Africa through bribery
Lebanon's garbage: the stench of corruption
FIFA's football parallel universe
Myanmar's dirty jade business
Fighting impunity in Guatemala
Turkey's "gas for gold" scheme
The Azerbaijani Laundromat
Paradise Papers: where the rich & powerful hide their money
Operation Lava Jato: clean cars, dirty money
The Troika Laundromat
Andrej Babiš's conflict of interest in Czechia