AJIYA RECEIVES NORTHERN YOUTH COUNCIL OF NIGERIA'S HALL OF FAME AWARD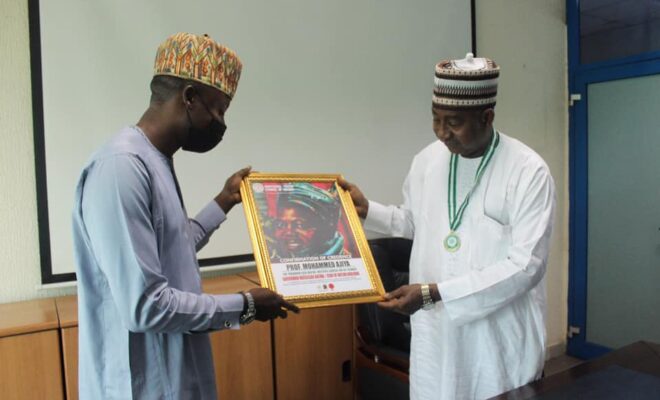 The President/CEO of the Digital Bridge Institute (DBI), Prof. Mohammed Ajiya has received the prestigious "Hall of Fame" award from the Northern Youth Council of Nigeria (NYCN).
A statement by Akin Ogunlade, Head, Public Affairs of DBI said the award was presented to Prof. Ajiya at the DBI's Headquarters in Abuja, on Monday, March 22, 2021 by the Executive Council of the NYCN led by Barr. Abdulmalik Alfa, the Vice-President of the Council.
Barr. Alfa acknowledged the outstanding contributions of the Digital Bridge Institute under the able leadership of Prof. Ajiya as foremost Information Communication Technology (ICT) training Institute in Africa. He noted that Prof. Ajiya is an enigma in the enablement of national development through the capacity building initiatives of the Institute.
He further stated that the focus of the Federal Government on digital economy cannot be achieved without adequate capacity for every Nigerian to compete efficiently in the evolving ICT world.
While receiving the award, Prof. Ajiya appreciated the executive council of the NYCN for considering him worthy of the honour, adding that the success story recorded by the Institute is due to the collective efforts of the board, management and every member of staff of the Institute, while expressing DBI's commitment to deepen partnership with every relevant bodies such as the NYCN to ensure adequate skills development of Nigerians for the benefit of the country.
He stated: "The recognition by the NYCN is a clarion call on the DBI to keep up its activities in line with its mandates as set out by the Nigerian Communications Commission. The Institute is only able to deliver on its mandate due to the overwhelming support of the Hon. Minister of Communications and Digital Economy, Dr. Isa Ali Ibrahim Pantami and the funding provided by the NCC for its capacity building initiatives," Ajiya said.
The award presentation was attended by other executive members of the NYCN as well as top management Staff of the Institute.