Amaechi is a 'total failure', he can longer enter Aso Rock – Wike mocks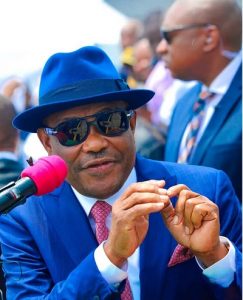 Rivers Governor, Nyesom Wike, on Monday rekindled the old rivalry with his predecessor, Rotimi Amaechi, on Monday, dismissing the former Minister of Transportation as a "total failure" who no longer has access to Aso Rock.
Wike was responding to comments credited to Amaechi recently at the funeral of a traditional ruler, Alabo Graham-Douglas, in the Akuku Toru Local Government Area of the state where he chided Wike and his government for not taking responsibility for the burial.
Wike spoke at the commissioning of a remodelled former RivBank Building in Port Harcourt, the state capital.
Wike said: "This should be the last time that you (Amaechi) will talk about this state because you are a total failure as far as this state is concerned. A total failure. Even what is supposed to come to us, you blocked it but we didn't bother.
"You think you will not finish as a Minister, you have left. I hear he can't even enter Villa now. All those periods you intimidated police people, and army people are over. You use to tell them, 'The President is angry with you'. Now, go and tell them," Wike mocked.
Wike said he chose to stay away from the burial because it was politicised. He said he constructed the roads leading to the residence and palace of the traditional ruler when he was alive, adding that a mark of honour, he elevated Alabo's stool to the status of a first-class monarch before his passing.
"Don't distract us again or else I will say more things," Wike warned Amaechi.
Amaechi who lost out in the All Progressives Presidential primary has relapsed into silence and has not been making public appearances.