Anthony Joshua earns $85m, routs Ruiz in Saudi rain-soaked 15,000-seater arena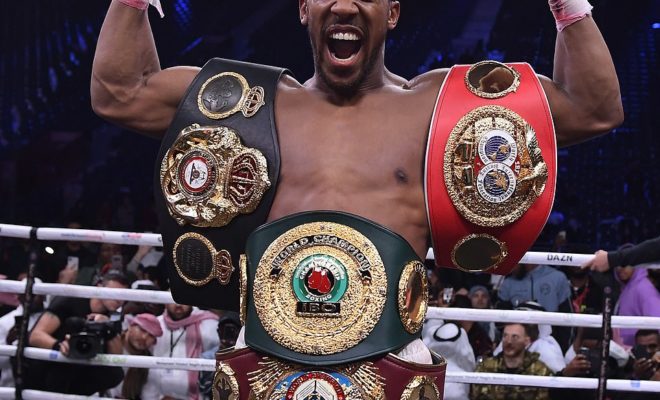 Anthony Joshua has regained his world heavyweight titles after unanimously thrashing Andy Ruiz Jr in a no-holds-barred revenge of last summer's humiliating knockout to the Mexican '20-stone no-hoper'.
Both Joshua and Ruiz earned $85 million and $13 million respectively
The UK Daily Mail reports that the British boxer who originally hailed from Shagamu, Ogun State, Nigeria, blitzed his opponent with a flurry of jabs early on before clattering him with a massive eye-splitting punch to the face.
After his convincing victory – confirmed by the judges after the bout went the full 12 rounds – Joshua was presented with the IBO, IBF, WBO and WBA belts that Ruiz stripped him of in a shock knockout a few months ago.
But the Watford-born fighter dominated tonight's clash in Saudi Arabia and rarely looked under threat of being dealt a second defeat.
Yet while high-octane drama unfolded in the ring, thousands of fans packed into the open-air stadium had their night spoiled by giant orange pillars blocking their view.
Despite forking out thousands of pounds to watch the highly-anticipated bout in a new purpose-built stadium, spectators were left dismayed after arriving to see their seats behind the pillars.
The 15,000-seat Diriyah Arena was put up in just two months and will be torn down after the fight, which was also dampened by bad weather.
The heavens opened earlier above the outdoor stadium, forcing soggy spectators to throw on their ponchos in the middle of the desert.
Ruiz's June win in New York was a huge upset, with few predicting the thickset underdog who was parachuted in to fight at the last minute would triumph over the then undefeated Joshua.
Confirmation of Joshua's win was greeted with roars of approval from a capacity 16,000 crowd in the purpose-built venue in the ancient Saudi capital, which was hosting a major title fight for the first time.
Photographs of the ring show many seats had obstructed view because of four huge pillars which is supporting a canopy that protects the two fighters from the elements.
Only 75 per cent of tickets are believed to have been sold and around 2,500 British boxing fans expected to attend.