APC vs NNPP: Kano on edge as police warns against protests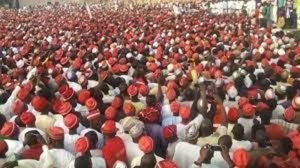 Kano State is on edge and practically sitting on a time bomb with some persons in the metropolis threatening to go ahead with their proposed protest against the sacking of Governor Abba Yusuf by the Appeal Court.
 But the state police command has vowed to clamp down on any group rallying or protesting in the state in favour of or against the ruling.
Recall that the Court of Appeal had at the weekend affirmed the decision of the lower court which sacked the governor. It held that Yusuf was not in the NNPP's register, making him unqualified to contest the election. The court declared the All Progressives Congress (APC)'s Nasiru Gawuna as the winner of the election.
The ruling has put Kano on high alert mode with various groups forming bond and liaisons to mass into the streets in protest.
The police authorities while warning against any form of protest said that "the intention of the protesters is to shut down the state in an action that may likely cause violence in the state."
Meanwhile the leaders of NNPP and APC in Kano State, the two sparring parties,  have refuted reports of alleged plans by their supporters to organise violent protests following the judgment of the Appeal Court, Abuja on the governorship election in the state.
The State Secretary of APC, Alhaji Zakari Sarina and the Deputy Chairman, South, NNPP, Alhaji Ibrahim Daho, disclosed this during a meeting with the heads of security agencies at the State Police Command.
The duo said that they have already signed a peace accord a few days ago aimed at ensuring peace before and after the Appeal court's verdict, stressing, "we stand by our words.
" We don't have any idea of some people planning to conduct any protest, they are not our members ,we have directed all our supporters to be law abiding."