Arrests, teargas signpost #EndSARS memorial protests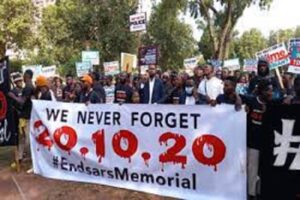 Arrests, teargas and mild skirmishes hallmarked the first anniversary of the EndSARS protests of October 20, 2020 during which lives were lost and billions of naira worth of property destroyed across the nation.
At Lekki tollgate in Lagos, the epicentre of the protests, two persons were arrested by the police. Incidentally, one of the persons arrested was whisked away by irate policemen when he was addressing the press and making a point for better welfare for the police.
Another person arrested claimed he was assaulted by the police and his money taken.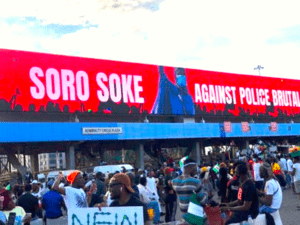 In Abuja and Ibadan, Oyo state, protesters were seen in vehicles waving Nigerian flag and chanting solidarity songs. Unity Fountain in Abuja provided a fitting venue for youths marking the memorial of EndSARS.
"We are here to raise our voice, to remember an event in the life of this nation. We are here to talk not to fight. We don't expect anything violent from the police. We are not against police but we are against brutality by SARS. Our message is simple, they should stop killing us, arresting us for Yahoo-Yahoo when we are not; they should stop taking our money using the power of the gun, nothing more…, " says a man who identified himself as Haruna.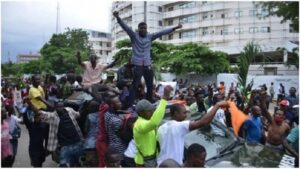 But police authorities in Lagos have explained why operatives fired tear gas at the Lekki tollgate area .
Commissioner of Police in Lagos, Hakeem Odumosu, said the police did not disperse the youths taking part in the procession but at those he described as miscreants at the venue.
"We did not fire canister to disperse protesters. If you have your recording, you will know the type of the canister that we fired and if you go back, you will see the period that they (the organisers) posted it – it was between 8am and 10am.
"Secondly, we agreed that they need to move in vehicles, not on foot. They can blare their horns, they can wave their flags, they can display their posters, no problem.
"But they are not to be on foot, and we agreed that they won't come down from their vehicle to address anybody; that is where people will start coming in and converging."
He said that the police only used minimum force to disperse miscreants, and not the youths participating in the memorial procession.
He explained that those arrested were miscreants and some of them were armed with weapons to cause mayhem at the venue.
"We arrested someone with a machete, is that a protester? That is evidence to us that miscreants have infiltrated them," said the police commissioner.
He also said a journalist was arrested who could not identify himself, but added that as soon as other journalists identified him, he was released.