Asaba bubbles as 21st NSF ignites business activities at Games Village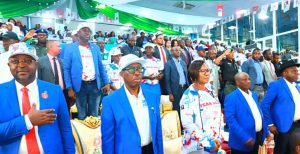 By Olanrewaju Akojede
Business activities are now booming around the Games Village at the Stephen Keshi Stadium in Asaba as the 21st National Sports Festival (NSF) gets underway in the state capital.
The News Agency of Nigeria (NAN) reports that the games village is already witnessing a large crowd with the arrival of athletes and officials for the sports competition.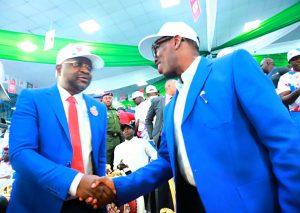 Chairman of the Asaba 2022 Local Organising Committee (LOC), Tonobok Okowa, had said the state was expecting about 13,000 athletes from 36 states of the federation and the Federal Capital Territory (FCT).
The sports festival had started off on Monday with the arrival of athletes and officials, while the opening ceremony took place on Wednesday.
However, early arrivals at the games village include contingents from Kano, Lagos, Ekiti and Nasarawa states, as well as Kwara, Ogun, Bayelsa, Osun and Kogi.
They were all camped at the Delta State Polytechnic.
Others include those from Enugu state, as well as Imo, Rivers Cross River, Akwa Ibom, among others.
The games village is already busy with business activities as traders display their wares to make quick sales owing to the large number of athletes and officials.
The traders, service providers such as POS operators, Quick Point Sales, food courts and other businesses have their various makeshift kiosks and stands around the games village.
One of them, a POS operator, Deborah Ofuale, told NAN that the NSF was a good opportunity for her to make brisk business.
"Although I am an athlete, I will not be competing at this year's event. Nonetheless, I will be making some money through the POS business.
"I am happy to be experiencing this NSF because the organisers did not allow for its postponement, unlike the other one hosted by Edo.
"I know that the people around may need money. So, that is why I am here to provide the service which comes with a cost," she said.
An energy drink distributor, Anthonia Agbon, said she was hoping for a bumper sale because of the popularity of the drink among the youths.
"Energy drink is a brand popular among the youths. So, I am expecting good sales from here. I also thank the organisers for giving us the chance to have our kiosks here.
"When the games start proper, we should be expecting good sales," she said.
A sports wear seller, Egima Daniels, also said the necessity of her business had placed her in a good advantage for sales.
"Many athletes will need good outfit to train and exchange. So, I am expecting the athletes to come and buy," she said.
Goodness Ifeanyi, a food court operator, told NAN that he had been having good sales from the first day.
"I have been here for about two days now and I am happy with the sales. People are already buying food.
"Food is essential. So, we are expecting more people to come and buy because we are at an strategic place," he said.(NAN)