Buhari appoints Gambari as new Chief of Staff, to be formally announced Wednesday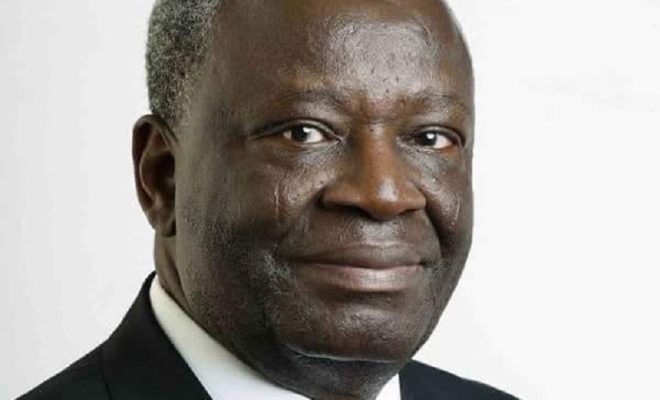 President Muhammadu Buhari has appointed 75-year-old Professor Ibrahim Agboola Gambari as his new Chief Of Staff following the demise of Mallam Abba Kyari. Gambari is an astute diplomat, administrator of repute with strong international connection but many Nigerians consider him too old for the job.
Presidency sources said his appointment shall be formally announced Wednesday. Inside sources told Political Economist that Buhari was excited at the choice of Gambari in whom he sees integrity and commitment, two qualities our source said the president fancies.
Professor Ibrahim Agboola Gambari  who was born in Ilorin, Kwara State on November 24, 1944 attended Kings' College, Lagos, the London School of Economics, and Columbia University, New York. He holds the B.Sc., M.A. & Ph.D. degrees in Political Science, with bias in International Relations.
He has had a distinguished and fulfilling career as an academic, diplomat and international public servant. From 1969 to 1974, he was a Lecturer successively at the City University of New York and the State University of New York [Albany].
Returning to his country, Nigeria, he joined the faculty of Ahmadu Bello University [ABU], Zaria as a Senior Lecturer in 1977 and attained the rank of Professor in 1983. As Head of Department of Political Science at ABU, he established Nigeria's first undergraduate programme in International Studies.
In October 1983, Professor Ibrahim Gambari was appointed Director-General of the prestigious Nigerian Institute of International Affairs, he was named the country's Minister of External Affairs a few months later, in which capacity he served until August 1985.
Shortly after his return to ABU, the much sought-after intellectual was invited as Visiting Professor to John Hopkins School of Advanced International Studies, Baltimore, Maryland, USA; and further teaching schedules at Georgetown University and Howard University – both in Washington, D.C. He subsequently served as a Research Fellow at Brookings Institution, Washington D.C.; and a Resident Scholar, Rockefeller Foundation Bellagio Study & Conference Centre, Italy.
Professor Ibrahim Gambari's career witnessed another significant boost with his appointment as Nigeria's Permanent Representatives to the United Nations Headquarters, New York. Among other landmarks of his tenure, he was a senior member of the Nigerian Delegation to ten consecutive sessions of the General Assembly [44th to 54th], served as President of the Security Council on two occasions, and chaired the UN Special Committee Against Apartheid. In the same vein, he chaired the UN Special Committee on Peace-Keeping Operations for some 9 years; and served as a Trustee of the UN Institute of Training & Research, and President, Executive Board of UNICEF.
Nigeria's longest serving Ambassador/Permanent Representative to the United Nations [1990–1999], Professor Ibrahim Gambari joined the United Nations Secretariat in December 1990. Over the following 13 years, he was actively involved in several conflict resolution missions on behalf of the UN. For six tense months, he served as Special Representative of the Secretary-General & Head of the UN Mission to Angola (UNMA) – facilitating the successful conclusion of the peace process of the Lusaka Protocol.
In 2005, he was appointed Under-Secretary-General of the UN for the Department of Political Affairs, in which position he performed creditable. Barely four years later, the UN Secretary-General and the Chairperson of the African Union Commission invited him to serve as Joint AU-UN Special Representative for Darfur [Sudan]. That critical assignment over, he was named Special Adviser on the International Compact with Iraq and Other Issues for the UN Secretary-General.
The erudite scholar has authored quite a number of publications, including books, articles and presentations, which have become reference sources for scholars and researchers across the world.
The pioneer Chancellor of Kwara State University, Ilorin, Professor Gambari is a Commander of the Federal Republic [CFR]. He is the first African to be named Honorary Professor by Chugsan University [founded by & named after Dr. Sun Yat Sen, leader of the 1911 Peasant Revolution and pioneer President of Nationalist China]. He was also honoured with the University of Bridgeport, USA Honorary Doctorate of Humane Letters; and Membership of the prestigious Johns Hopkins University's Society of Scholars.
Happily married with children, Professor Ibrahim Gambari is currently the Founder/Chairman, Savannah Centre for Diplomacy, Democracy & Development — a think-thank for research, training & public policy.