Buhari reaffirms 'war' against IPOB; justifies appointment of COAS Yahaya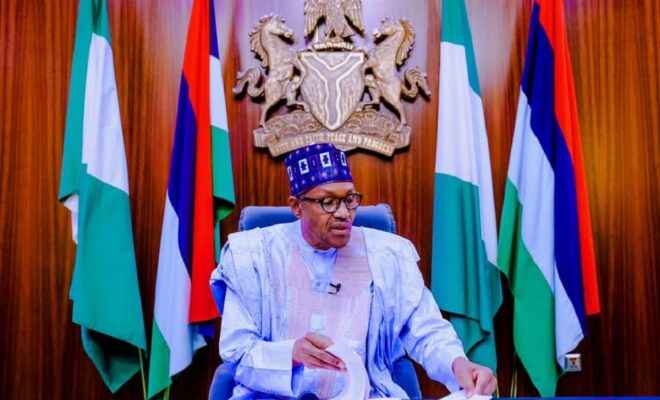 June 10, 2021
"That IPOB is just like a dot in a circle. Even if they want to exit, they will have no access to anywhere. And the way they are spread all over the country, having businesses and property, I don't think IPOB knows what they are talking about. In any case, we say we'll talk to them in the language that they understand. We'll organise the police and the military to pursue them."
President Muhammadu Buhari has reiterated his decision to use the police and military to curtail the Indigenous People of Biafra, IPOB, and other elements in the South East. The president disclosed this during an interview with Arise Television which was televised on Thursday.
He also justified the appointment of Major-General Farouk Yahaya as Chief of Army Staff, COAS, after the death of Lt. Gen Ibrahim Attahiru who died in a plane crash. He explained that Gen. Yahaya was appointed because he has been in the thick of the fight against terrorist group, Boko Haram. Over 20 Generals face retirement because of the appointment of Yahaya.
On the secessionist cause of IPOB, the president said he was encouraged by what elders and youths in the South-south are saying, persons who have openly said they will not be a part of Biafra.
Buhari said that the larger Igbo are everywhere in the country doing businesses and building property and wondered that IPOB members have no idea of what their secessionist agenda is all about.
"That IPOB is just like a dot in a circle. Even if they want to exit, they will have no access to anywhere.
"And the way they are spread all over the country, having businesses and property, I don't think IPOB knows what they are talking about.
"In any case, we say we'll talk to them in the language that they understand. We'll organise the police and the military to pursue them."
On graft, he admitted that fighting corruption in democratic setting is a difficult task to accomplish.
According to him, the war against corruption has not been easy for him since he became a democratically elected President six years ago.
He, however, stressed that his administration had succeeded in easing out corrupt public officials without making noise about it.
Buhari recalled that much was achieved in the fight against corruption when he was military Head of State in the early 80s "when a lot of people were sent to prisons before I was also booted out".
The president frowned at the way and manner local government system was being managed, saying the local government administration was almost non-existent in the country.
He cited situation where state governors continued to starve the local governments of funds saying "in a situation where N300 million is allocated to local government and they are given N100 million is not fair".
On activities of Bandits and kidnappers particularly in the North West and North Central zones, President Buhari said he had given the police and armed forces the instructions to be ruthless with bandits and vandals terrorising innocent citizens across the country.
He stated that he had told the security agencies to treat bandits and other criminals in the "the language they understand".
"Problem in the north-west; you have people over there stealing each other's cattle and burning each other's villages.
"Like I said, we are going to treat them in the language they understand.
"We have given the police and the military the power to be ruthless. You watch it in a few weeks' time there will be difference."
"Because we told them if we keep people away from their farm, we are going to starve. And the government can't control the public.
"If you allow hunger, the government is going to be in trouble and we don't want to be in trouble.
"We are already in enough trouble. So we warn them sooner than later you'll see the difference,'' he said.
On farmers/herders clashes, the president said the problem had persisted because old cattle routes and grazing areas had been violated by development, adding that those who had taken over such traditional arrangements would be dispossessed.
On the fight against insurgency, Buhari dismissed the assertion that majority of Boko Haram members were foreigners.
According to him, the majority of the Boko Haram members are Nigerians, saying this was further corroborated by Gov. Babagana Zulum of Borno.
The president stated that his administration had done a lot to fight the terrorists and insurgents but the problem in the "North-East is very difficult."