Buhari's Broadcast: Suspect who leaked draft speech already answering for his evil action – Adesina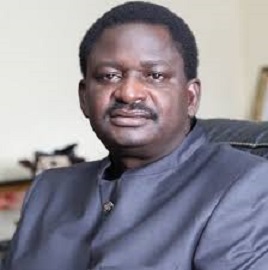 Special Adviser to the President on Media and Publicity, Mr Femi Adesina
The Special Adviser to the President on Media and Publicity, Femi Adesina stated this in a piece titled 'Enemy Of The State'.
Acording to him, "President Muhammadu Buhari was to broadcast to the country at 8 pm, to give an update on the battle against COVID-19, and what becomes of the lockdown that had lasted four weeks, particularly in the Federal Capital Territory, Lagos and Ogun States. Kano was also a point of heavy interest, with the strange deaths ravaging the state".
"As the country waited for the President with great expectations, a purported copy of the broadcast began to circulate on social media from about 4 pm".
"Before the end of that evening, computer evidences had narrowed down the suspect, and he was already answering for his evil action".
Adesina noted that he took a look at the circulating document, and within one minute, knew that it was a rogue copy.
"What immediately gave it away was the paragraphing. It was completely different from the one I had been part of producing, and which had been recorded for broadcast by the President".
"Another tell-tale to the dubiousness of the document was the date it gave. It said the lockdown in the affected states and the FCT would be eased from May 2 while the authentic copy bore May 4"
Adesina likened the situation to an action-thriller film produced in 1998 starring American actor Will Smith.
According to him, an enemy of the state struck in Nigeria on Monday and this time, it was non-fiction.
He however said he made a few phone calls to those involved with the script, right from origination, which was from outside the Presidency, to final editing and the conclusion was easy to reach; There were some other discrepancies.
"Paragraphs that had been excised from the final copy were still intact, and the document was riddled with spelling and grammatical errors, which you would rarely find in a presidential broadcast, which would have passed through a number of select and trusted hands".
"Who would do such a thing, except an Enemy of the State, someone who wants to ridicule the government, cause utmost confusion in the polity, and smirk his lips in malevolent pleasure, as the government, and possibly the media handlers of the President were flagellated, and taken to the cleaners".