Cape Verde win: Super Eagles pocket N20m cash from Air Peace Boss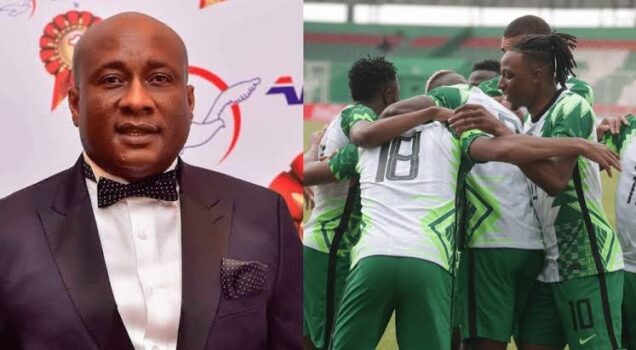 September 7, 2021
For beating Cape Verde 2-1 away in the World Cup qualifier, Nigeria's Super Eagles on Tuesday pocketed a personal cash gift of N20 million from the CEO of Air Peace airline, Mr. Allen Onyema.
Onyema had promised to gift the Super Eagles the sum of N20 million in cash should they secure victory in Mindelo against hosts Cape Verde to maintain their lead in Group C of the 2022 FIFA World Cup qualifiers.
Air Peace recently signed up as the official airliner of the Nigeria national team and Mr. Onyema had to address the Eagles aboard the plane on their way to Cape Verde. He urged them to fly the Nigerian flag with pride, dignity and determination for the sake of Nigerians who in these trying times see in footballer the chief unifying factor for the nation.
The Super Eagles are due back to Nigeria on Wednesday.
Dylan Tavares scored in the 19th minute of the Match Day 2 fixture at the Estádio Municipal Adérito Sena, to give the host an unworthy lead before the Super eagles rallied back.
Napoli forward Victor Osimhen drew the Super Eagles level in the 29th minute, before an own goal by Kenny Santos in the 75th minute handed Nigeria the win.
There were two curious calls by the referee who allowed the host's offside goal to stand and denied Nigeria an obvious penalty when Awaziem, Super Eagles reliable defender, was kicked in the face inside the host's penalty area
Their next match in the qualifiers comes up in October against the Central African Republic (CAR).
Below is the group's current standings, after two matches each by the four teams:
Team                                               P       W      D     L      GF     GA       GD     Pts
Nigeria                                            2        2       0      0       4        1         +3        6
Liberia                                             2        1        0      1        1       2          -1         3
Cape Verde                                     2         0       1        1      2        3          -1        1
Central African Republic (CAR)  2        0       1        1      1         2         -1        1