Caverton lobbies FG, Rivers State Govt for reopening of shut offices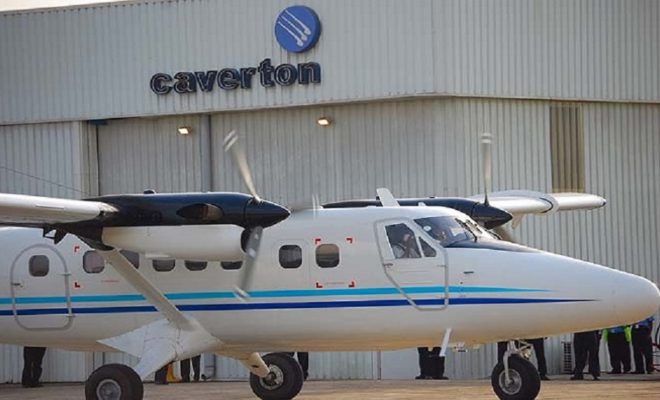 Authorities of Caverton Helicopters Ltd. are dialoguing with and lobbying relevant stakeholders to ensure the reopening of the company's offices in Rivers.
Caverton Offshore Support Group Plc., the parent company of the airline made the announcement in a statement on Tuesday.
The statement, signed by the Secretary of the company, Mrs Amaka Obiora, was posted on the website of the Nigerian Stock Exchange.
Obiora said the company would continue to engage relevant state and federal authorities for the reopening of the company's premises shut on April 9 by the Rivers Government.
"We are optimistic of a peaceful resolution of the misunderstanding on restriction of movement.
"Caverton remains committed to responsible business conduct which entails above all, compliance with laws of Rivers State and Federal Government of Nigeria.
"Pursuant to the provisions of the Rulebook of the Exchange, 2015, COSG wishes to comment on the recent detention of two Caverton Helicopters' pilots and the closure of its offices by the Rivers State
Government.
"On March 30, His Excellency President Muhammadu Buhari, ordered a two-week lockdown in Lagos State, Ogun State and Abuja, in an effort to stem the tide of COVID-19."
Obiora explained that the lockdown order exempted upstream and downstream operations in the oil & gas industry.
She noted that upon returning from an offshore flight on April 7, two of its pilots along with 10 offshore workers were detained and charged to court by the Rivers Government for apparent breach of an executive order.
According to her, the executive order, disallowing vehicles and flights from entering Rivers was signed by the governor on March 19.
The company secretary said that Caverton did not act to undermine or over-ride the Rivers governor's order or to breach the state's COVID-19 Containment Order.
Obiora noted that Caverton relied on an approval granted by the Federal Ministry of Aviation through the Nigerian Civil Aviation Authority to provide logistics to companies in oil and gas.
She, however, said the Caverton pilots and passengers were granted bail on April 12. (NAN)