Commuters stranded at Onitsha Head Bridge as Govt enforces no-interstate movement order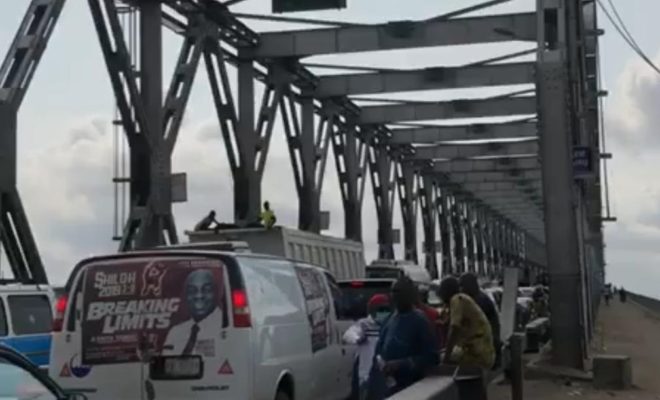 Onitsha Head Bridge in Anambra State is in a state of bedlam as commuters were turned back into town in strict enforcement of the closure of boundary order of the state government. Commuters coming from Delta were also turned back.
A long queue of vehicles was caught on camera atop the bridge with commuters lamenting their fate. A man identified as Okolie Nwadike said he was returning to his home in Asaba  and has been on the bridge for over one hour.
"People are being turned back. I understand the bridge is also closed at the Asaba end so there is nowhere to go. I am from Anambra but I live in Asaba and I can't go back home. Please, help us tell the government to allow movement a little," he said
Governor Willie Obiano had announced the closure of 63 major markets in the state as part of measures to ensure that people remained in their homes during the coronavirus lockdown. The state had earlier closed all schools and ordered civil servants to remain at home, while its borders with six states would be shut.
The commissioner for information and public enlightenment, Mr Don Adinuba who said the closure would take effect from Monday, March 31, 2020,  explained that the exceptions were foodstuff and medicine markets.
According to him, the new order followed a series of consultations with various stakeholders in the markets across the state.
He said: "During the two-week closure, the people affected by the order are enjoined to stay indoors and maintain a high level of hygiene.
"They are also advised to maintain social distance by keeping away from persons by six feet, in addition to washing their hands regularly with soap and water for at least 20 seconds and declining to hug or shake hands with any person.
"The Anambra State Taskforce on the Coronavirus, which comprises, among others, the Nigeria Police Force, Anambra Vigilante Group and other security and intelligence organizations, are directed to ensure strict compliance with the order closing down markets in the state.
"The closure is the last resort in the determination to promote the wellbeing and secure future of the people of Anambra State. The government deeply regrets the inconveniences which the order will cause."
He, however, said the directive would be reviewed in two weeks' time, adding that If any person contracted the virus it would show during the period of the market shutdown such that only people free of COVID-19 would be in the markets when they are reopened.