Confirmed: Leicester owner, four others died in Chopper crash; Police probe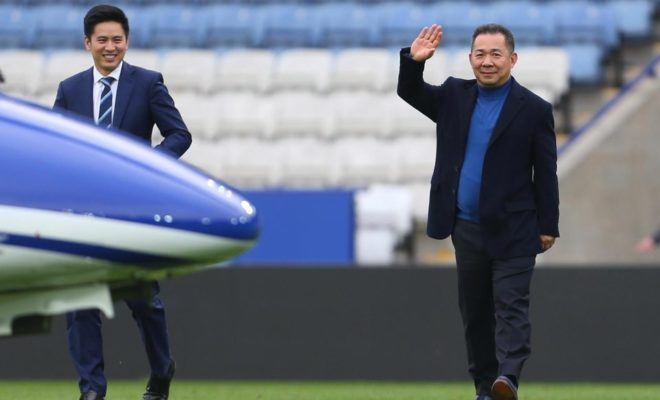 Leicester City Football Club's owner Vichai Srivaddhanaprabha, a Thai tycoon, was among five people on board a helicopter which crashed and then exploded after an English Premier League match on Saturday.
A source close to the club said on Sunday that also on board were two pilots and one other person whose identity were not immediately known.
The source also named a fifth person on board, but there were no confirmation that anyone on board survived, while Leicester police have said enquiries into the crash would continue.
Vichai, a father of four and founder of duty-free giant King Power International, is a huge favourite with the club's fans after he bought the unfancied side.
He bought it from central England in 2010 and they went on to stun the football world by beating odds of 5,000/1 to win the English Premier League title in 2016.
In Thailand, officials at King Power said they could not yet comment on the crash or say whether Vichai had been aboard when it spiralled out of control.
The helicopter had crashed shortly after taking off around an hour after the game.
However, the club has not commented on the details of the crash.
The helicopter came down yards from the King Power Stadium's grandstands in a club car park.
Team manager Claude Puel was not on the helicopter, the source has also gone on to say.
According to witnesses, the helicopter had barely cleared the top of the stadium before it started to spin.
It then plummeted to the ground and burst into flames.
John Butcher, who was near the stadium at the time of the crash, told the BBC his nephew saw the helicopter spiral out of control apparently due to a faulty rear propeller.
"Within a second it dropped like a stone to the floor … Luckily it did spiral for a little while and everybody sort of ran, sort of scattered.
"As far as we are aware, nobody around the car park was caught up in this problem."
After pumping millions of pounds into the club, Vichai helped steer Leicester back into the top-flight in 2014 before they stunned the sport.
They beat the likes of Manchester United, Liverpool and Chelsea to become champions of England.
Hundreds of fans laid flowers, football shirts and scarves outside the stadium in tribute to Vichai on Sunday morning.
"He's put so much money into the club. He has brought the club up from receivership, put the money in, built the team, won the Premiership," 68-year-old fan Richard Mobbs told Reuters.
"The future is looking bright or at least it was looking bright."
According to Forbes magazine, Vichai is the fifth-richest person in Thailand with an estimated net worth of $4.9 billion.
The self-made businessman's duty-free company, founded in 1989, was granted an airport monopoly in 2006 under the government of Prime Minister Thaksin Shinawatra.
It continued to prosper even after Thaksin's ousting in a coup that year.
The family's empire also includes Belgian football club, Oud-Heverlee Leuven.
Leading Leicester players, including Jamie Vardy and Harry Maguire, sent messages of support on Twitter while rival clubs, including Manchester City, voiced their concern.
Freelance photographer Ryan Brown was covering the game and saw the helicopter clear the stadium before it crashed.
"Literally the engine stopped and I turned around, and it made a bit of a whirring noise," Brown told BBC Radio 5 Live. "It turned silent, blades started spinning and then there was a big bang."
Football fans in Thailand were shocked by the news of the crash.
"Thailand has the Leicester team — that is well known to us, and we always send our moral support," Chuleeporn Kamonwasitkul said on a football field in Bangkok.
"No matter if you're a fan of Leicester or not, all of the Thai people are sending our thoughts and prayers for them to be safe."
Leicester had played a league match at home against West Ham United earlier on Saturday, drawing 1-1.