COVID-19: LASG says 1,683 active cases in communities are yet to turn up for admission in care centres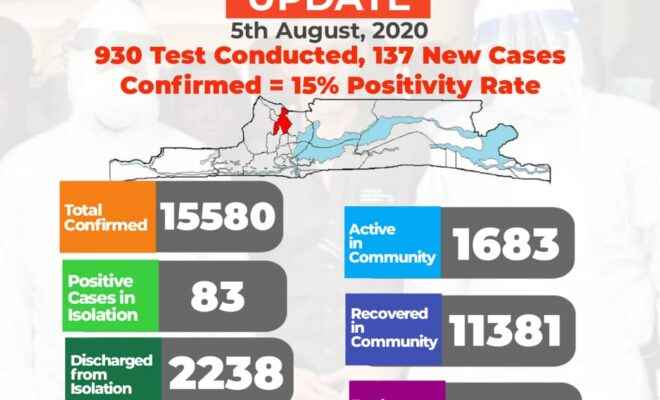 Lagos State Commissioner for Health, Prof. Akin Abayomi says 1,683 active COVID-19 cases in communities are yet to turn up for admission in COVID-19 Lagos care centres.
Abayomi disclosed this in a series of tweets on Friday, while giving an update on the COVID-19 for Aug. 5.
He noted that 137 new COVID-19 infections were confirmed in the state  out of a total of 930 COVID-19 tests conducted on the reported date.
"The new cases bring the total number of confirmed infections in Lagos to 15,580," he said.
He said, 66,431 COVID-19 tests had been conducted since the inception of the pandemic.
According to him, 2,238 of the confirmed cases have fully recovered and since been discharged.
Abayomi added that 11,381 of the confirmed cases monitored in communities by the state's COVID-19 response team have either fully recovered or positively responding to treatments.
"83 of the cases are currently under isolation in public and private care centres.
He, however, noted that one COVID-19 related death was recorded on the reported day, increasing the state's COVID-19 related mortality to 195.