COVID-19: Nigeria tests over 150,000 samples, records 11 new deaths – NCDC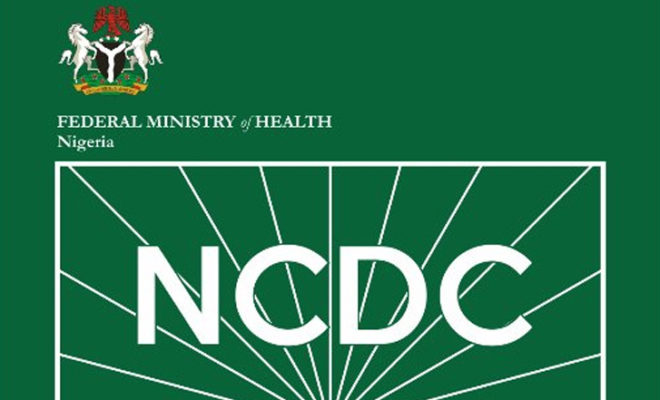 The Nigeria Centre for Disease Control, NCDC, says 151,121 COVID-19 samples have been so far tested in the country.
This is contained in its COVID-19 Nigeria, Situation report published on Monday.
According to the report, on the 5th of July 2020, 544 new confirmed cases and 11 deaths were recorded in Nigeria.
The NCDC noted that though no new state has reported a case in the last 24 hours, till date, 28,711 cases have been confirmed, 11,665 cases have been discharged and 645 deaths have been recorded in 35 states and the Federal Capital Territory.
The 544 new cases are reported from 19 states:
Lagos-199
Ebonyi-65
Oyo-47
Ondo-46
Ogun-31
Edo-30
FCT-28
Katsina-25
Plateau-15
Bayelsa-11
Kaduna-10
Adamawa-10
Akwa Ibom-8
Gombe-7
Kano-4
Taraba-3
Rivers-2
Abia-2
Ekiti-1
COVID-19 State Situation Report as at 5th July, 2020
| States Affected | No. of Cases (Lab Confirmed) | No. of Cases (on admission) | No. Discharged | No. of Deaths |
| --- | --- | --- | --- | --- |
| Lagos | 11,244 | 9,436 | 1,676 | 132 |
| FCT | 2,181 | 1,489 | 657 | 35 |
| Oyo | 1,513 | 685 | 809 | 19 |
| Edo | 1,383 | 531 | 805 | 47 |
| Kano | 1,268 | 187 | 1,029 | 52 |
| Delta | 1,227 | 795 | 407 | 25 |
| Rivers | 1,183 | 377 | 765 | 41 |
| Ogun | 1,005 | 347 | 637 | 21 |
| Kaduna | 865 | 283 | 570 | 12 |
| Katsina | 604 | 140 | 441 | 23 |
| Borno | 528 | 58 | 437 | 33 |
| Gombe | 520 | 124 | 376 | 20 |
| Bauchi | 516 | 32 | 472 | 12 |
| Ebonyi | 503 | 131 | 369 | 3 |
| Ondo | 456 | 319 | 117 | 20 |
| Plateau | 436 | 205 | 219 | 12 |
| Abia | 385 | 164 | 218 | 3 |
| Enugu | 372 | 148 | 215 | 9 |
| Imo | 352 | 296 | 50 | 6 |
| Jigawa | 318 | 1 | 308 | 9 |
| Kwara | 269 | 114 | 146 | 9 |
| Bayelsa | 245 | 102 | 127 | 16 |
| Nasarawa | 225 | 104 | 113 | 8 |
| Osun | 165 | 99 | 59 | 7 |
| Sokoto | 153 | 12 | 125 | 16 |
| Niger | 122 | 40 | 75 | 7 |
| Akwa Ibom | 112 | 38 | 71 | 3 |
| Adamawa | 99 | 40 | 52 | 7 |
| Benue | 97 | 59 | 33 | 5 |
| Kebbi | 84 | 19 | 58 | 7 |
| Zamfara | 76 | 0 | 71 | 5 |
| Anambra | 73 | 7 | 57 | 9 |
| Yobe | 61 | 5 | 48 | 8 |
| Ekiti | 44 | 2 | 40 | 2 |
| Taraba | 22 | 12 | 10 | 0 |
| Kogi | 5 | 0 | 3 | 2 |
Samples tested 1
51,121
Confirmed Cases
28,711
Active Cases
16,401
Discharged Cases
11,665
Death
645