COVID-19 pandemic offers you opportunity to proffer solutions to problems now and coming years – Osinbajo tells Nigerian youths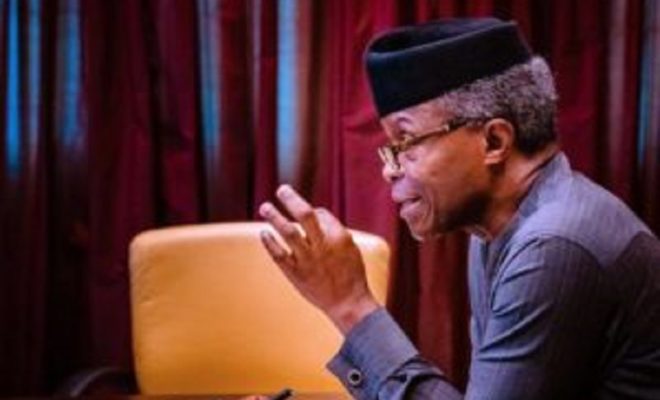 As the world grapples with the fallouts of the COVID-19 pandemic, young Nigerians should seize opportunities of the moment to change the course of human history, do things never done before and become problem solvers, according to Vice President Yemi Osinbajo.
This was contained in a statement by Laolu Akande, Senior Special Assistant to the President on Media and Publicity, Office of the Vice President.
According to him, the Vice President stated this on Saturday at the virtual valedictory service for graduating students of Edgewood College, Lagos.
According to Prof. Osinbajo, "No matter how you look at it, you are unique. The game changed in your generation, you are certainly a class of game changers. The point with any opportunity is that it must be seized if you are to benefit from it, which is why you must never take your place in history for granted. There is always a divine reason for it."
Historically, he said "circumstances have moved you ahead. No one has been here before. None of your parents or mine can tell you how life would be in or after a global pandemic. We know some but not nearly all of the challenges and all of the opportunities that will come with it".
"And if you tell me that you would have to wait until you get into University and even graduate before you start to answer those questions then you are missing the opportunity that history is offering you."
He further explained that when an opportunity to make history comes, it is often disguised as a challenge, a draw back or even a tragedy, adding that an opportunity often "hardly ever looks like the next great leap of mankind."
The VP said young age is a profound advantage in a time of uncertainty such as now and that such times also offer opportunity. In his words, "there is no qualifying age to be a problem solver, an entrepreneur, a great poet, an inventor, or an author. Age doesn't matter. You must from now begin to examine the solutions to the problems that we face and will face now and in the coming years."
Aghogho Ajiyen, a young man in Oghara, in Delta State and Ayoola Olaolu in Ikorodu, have been making prototypes of airplanes, drones and flying cars. Emeka Nelson in Anambra State developed a water-powered generator.
Sooner or later, these innovators will define enterprise, our economy, digital technology, in our country and perhaps around the world.
Arinze Ifeakandu was shortlisted for The Caine Prize for his book 'God's Children Are Little Broken Things'. At 22, he is the Caine Prize's second youngest ever person to be shortlisted. And the list of these young achievers goes on.
One last word that I must leave with you is that, never be foolish enough to imagine that anything happens without the Almighty God, all good and perfect gifts come from Him. Some of the smartest people that you will come across in the best universities in the world, will tell you that there is no God. Remember the words of scripture, "the fool says in his heart that there is no God."