Covid-19 protective equipment supplies from China fail UK safety checks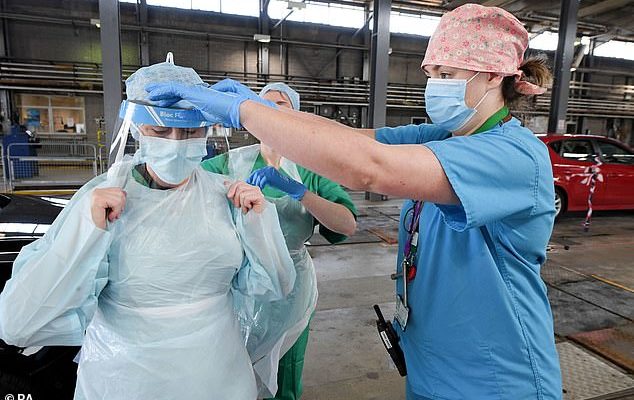 Delivering life-saving protective gear to frontline health staff has become 'hand to mouth', an NHS leader has revealed.
The Government is airlifting in crates from China on a daily basis but some are being removed from planes before take-off by officials who want to test them. Other boxes are reaching the UK only for NHS officials to discover that they have been wrongly labelled.
Rather than containing much needed protective gowns, they are filled with masks. Even worse, much of the kit from China – the world's main supplier – is unusable because it fails UK safety checks.
The astonishing revelations come from Chris Hopson of NHS Providers, which represents hospitals, ambulance services and mental health trusts. He said: 'It's all been a bit hand to mouth.
The heart of the problem is that getting that stock that was ordered weeks ago from China is proving somewhat erratic.' He said China was the only country with access to the right materials and manufacturing capacity to produce protective equipment.
More than 30 NHS staff are believed to have died from coronavirus and campaigners say some of the deaths were a direct result of a lack of personal protective equipment, or PPE. As Health Secretary Matt Hancock promised to look into these deaths to establish how the victims caught the virus:
Boris Johnson revealed his battle with the disease 'could have gone either way';
Britain's death toll rose by 737 to surge past 10,000 with one expert warning it was set to be the highest in Europe;
It emerged the Cabinet is split over when to end the lockdown, with growing concerns about the impact of school closures;
Michael Gove revealed he had been granted special dispensation to have his daughter tested for the virus so he could get back to work;
The Archbishop of Canterbury urged that the dead be treated with dignity;
Ministers admitted that only 4,200 of 300,000 small firms had been given loans;
The Royal College of Nursing told its members to refuse to treat patients if they didn't have adequate protective clothing;
The Royal College of Surgeons said a third of members did not have enough PPE. Protective clothing should be worn by anyone – including doctors, nurses, care home workers and paramedics – within two metres of a suspected coronavirus patient.
It includes gowns, masks, gloves and visors and is vital for preventing individuals from contracting the disease and passing it to patients or their own families. At least 30 NHS staff have died during the outbreak after testing positive although it is not known how many contracted the virus due to inadequate supplies of PPE.
Victims include Abdul Mabud Chowdhury, 53, who died in Romford, east London, last week, five days after urging Mr Johnson to make sure staff had 'appropriate' PPE.