Analysis: Danbatta, the humanist: When honour comes from home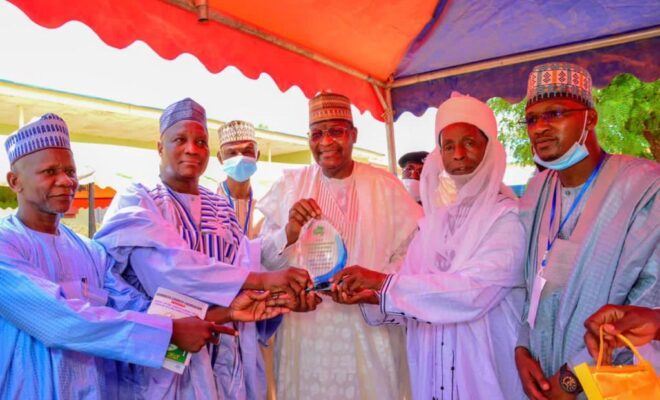 June 22, 2021
The man from Danbatta community in Nigeria's historical state of Kano has continued to uplift humanity through his non-governmental organisations namely: Danbatta Charity Foundation (DCF), Danbatta Academic Forum (DAF) and Danbatta Reporters and Duniya Ba Hutu. He has deployed these avenues to offer help to the helpless to the admiration of the local chiefs in his community and other national and international institutions
The Executive Vice Chairman of the Nigerian Communications Commission, NCC, Professor Umar Garba Danbatta is a ramrod straight humanist. No guile. No pretence. He just loves service to humanity and he does it with effortless ease.
He believes, like the boxing legend Mohammed Ali, that "service to others is the rent you pay for your room here on earth." And he has been paying rent and widening his sphere of influence on planet earth just by offering service unrelentingly to humanity. Coming from the academia, the Professor of electrical and electronics engineering has actively impacted and improved the intelligence quotient of many Nigerians especially those who passed through his tutelage at Bayero University, Kano. He love to teach. He has a passion for imparting knowledge. And he still teaches, this time, on a national cum international canvass, through talkshops, workshops, seminars, conferences and as keynoter in major professional and intellectual forums across the globe.
In the 21st century, a successful leader must come to the table with a good dose of intellectualism and scholarship. Intellectualising leadership is fast becoming the norm and the password for birthing a great enterprise or community including a nation. Danbatta is one of the intellectuals in Nigeria's public space and he is a living proof that intellectuals do not only make good leaders, they are good humanists too.
Every great society is built by little acts of kindness of the people; the privileged helping the less privileged; the strong strengthening the weak. It's the aggregation of the efforts of individuals that help to build the superstructure called community, be it a country, city, town or hamlet.
Without a doubt, providence has dealt pleasantly with Danbatta. Solid educational background that took him from Nigeria to Europe, a roller-coaster career in the academia and now as the privileged CEO of one of the best-performing public agencies in Nigeria, nay Africa. The NCC is highly regarded by the International Telecommunications Union, ITU, on account of regulatory excellence. The fame of the commission as a hub for good corporate governance and supreme telecom regulatory credentials has attracted other nations to Nigeria to under-study the NCC model. Such is the profound stature of the NCC and its foreman, Professor Danbatta.
But such soar-away success has not formed a pedestal for Danbatta to disconnect himself from the less privileged as is common with some persons of means. He's a man with an unapologetic passion for service to the high and low; he desires to lift the underclass. He's always willing to provide a shoulder for others to lean on. The man from Danbatta community in Nigeria's historical state of Kano has continued to uplift humanity through his non-governmental organisations namely: Danbatta Charity Foundation (DCF), Danbatta Academic Forum (DAF) and Danbatta Reporters and Duniya Ba Hutu. He has deployed these avenues to offer help to the helpless to the admiration of the local chiefs in his community and other national and international institutions.
The recent graduation ceremony of 10 female students from Muslim Community College of Health Sciences and Technology, Funtua and another 20 females empowered in vocational training with bias in tailoring and fashion, all sponsored by Prof. Danbatta attest to this. The graduates were not only offered skills, they were also empowered with start-up kits for their new vocations. In the case of the new fashion entrepreneurs, they were provided with sewing machines and other fashion-making tools.
His continued gesture and show of milk of human kindness did not escape the notice of the traditional rulers. Recently, the Sarkin Bai of Bichi Emirate and District Head of Danbatta, Alhaji Isiyaku Wada Waziri, speaking on behalf of other traditional rulers, waxed philosophical when he said: "One of the most important things anybody can give to Nigerians presently is security because without security, no business will prosper and people will not live in peace", an obvious reference to the efforts that Prof Danbatta has made to support the community in the area of security. He said such gesture is "valued the highest"
The Sarkin Bai stated that the community had witnessed improvement in its security following personal security support received from Prof. Danbatta.
"Danbatta has been at the forefront of supporting the community in the area of security by sponsoring vigilante groups and financing all aspects of security planning in the local government area and these efforts have continually yielded positive results," Waziri said.
The Danbatta Academic Forum has offered scholarships to many. In a country with low literacy, this is a veritable tool for unlocking the potential of the youths and guaranteeing their tomorrow. All of this are little acts of love and kindness that shape society and help in community development and nation-building.
It is for these reasons that Danbatta can visit his community freely, without fear of harassment unlike most politicians who, having looted the public treasury and disconnected from their constituents, are holed up in Abuja and Lagos, in some cases, in far-flung countries without a thought of visiting home. Indeed, they cannot visit home because a fowl that eats the corn of an orphan deserves a place in the steamy hot pot of a fowler.
Not so for Prof. Danbatta. He's a man at peace with his people. Little wonder they welcome him not only with open arms but with a bouquet of honour and garlands only fit for a child of consolation. That's what he's to his community, to Kano and to Nigeria.