Dangote's fortune declines, remains Africa's wealthiest person for the 9th time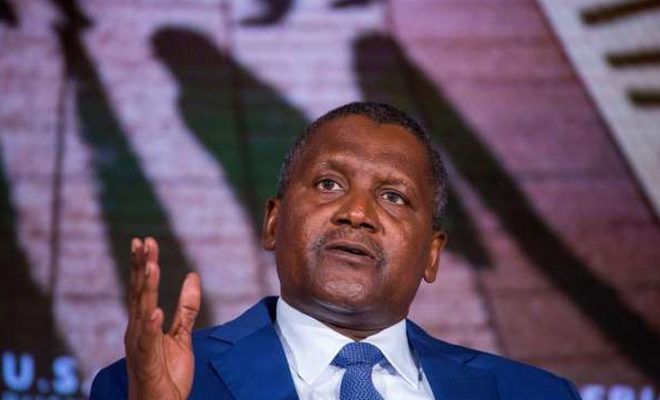 Africa's billionaires are as a group richer than a year ago. Altogether, the continent's 20 billionaires are worth a combined $73.4 billion, up from $68.7 billion a year ago.
For the ninth year in a row, Aliko Dangote of Nigeria is the richest person in Africa, worth an estimated $10.1 billion, down from $10.3 billion a year ago amid a slightly lower stock price for his Dangote Cement, his largest holding. The much-heralded oil refinery that Dangote is building in Nigeria is still at least a year away from completion.
Nassef Sawiris of Egypt is the new number two richest, worth $8 billion up from $6.3 billion last year. Sawiris' most valuable asset is a stake in shoemaker Adidas worth a recent $4 billion. The increase in Adidas' share price alone added nearly $1.5 billion to his fortune since January 2019.
He also owns a significant stake in fertilizer producer OCI N.V. In 2019, Sawiris and U.S. investor Wes Edens purchased the remaining stake they didn't own in U.K. Premier League team Aston Villa Football Club.
Number three on the list is Nigeria's Mike Adenuga, worth $7.7 billion. He owns mobile phone network GloMobile as well as oil producer Conoil and extensive real estate holdings.
One member of this elite group is worth 50% less than a year ago. Due primarily to the introduction of a new (weaker) currency in Zimbabwe, Strive Masiyiwa's fortune fell to $1.1 billion from $2.3 billion in January 2019. Zimbabwe, which has battled with hyperinflation, had been using the U.S. dollar as its currency, but in 2019 it switched to its own currency, initially called the RTGS. When converted into U.S. dollars, the values of Masiyiwa's stakes in Zimbabwe-listed mobile phone network Econet Wireless Zimbabwe and Cassava Smartech fell dramatically in dollar terms.
Just two of the 20 billionaires are women: Isabel dos Santos, the eldest daughter of Angola's former president, Jose Eduardo dos Santos; and Folorunsho Alakija of Nigeria. Dos Santos' fortune has declined to an estimated $2.2 billion, down $100 million from a year ago. In late December, an Angola court issued an order to freeze the assets that Isabel dos Santos and her husband, Sindika Dokolo, own in Angola.
Those include her stake in telecom firm Unitel and stakes in two Angolan banks; Forbes estimates those assets are worth hundreds of millions of dollars. A statement issued by Isabel dos Santos said the judgment contained "a number of untruths" and that she would fight the decision "by using all the instruments of Angolan and international law at my disposal."
Country rankings are unchanged from a year ago: Egypt and South Africa are tied with five billionaires each, followed by Nigeria with four and Morocco with two. Forbes found one billionaire each from Algeria, Angola, Tanzania and Zimbabwe. That's the same as last year but a better representation than nine years ago, when only four African nations were home to ten-figure fortunes.
Forbesafrica