DBI chief, Prof Ajiya, endorses Eaglescan plagiarism detection software for universities
As one of the strategic partners in the advancement of capacity building and knowledge development in Nigeria, the Digital Bridge Institute's CEO,  Prof. Mohammed Ajiya attended the public presentation of "EagleScan Plagiarism Detection Software" launched on Tuesday, 27th April 2021 in Abuja by the Association of Vice-Chancellors of Nigerian Universities (AVCNU).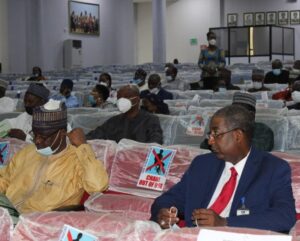 Prof. Ajiya's attendance was an endorsement of the software which will help stem the tide of plagiarism robbing Nigerians students of intellectualism and originality in knowledge, a statement issued by the Head of Public Affairs of DBI, Mr. Akin Ogunlade has said.
In the remarks of the Chairman of AVCNU, Prof. Timothy Olagbemiro, he noted that "with the antecedence in our country, it is no doubt that the high rise of plagiarism in the Projects and Assignments of our university students is of great concern.
"Over the years the AVCNU has shouldered this problem as a major factor negatively affecting the outputs of our graduates even after graduation.
"Today under the chairmanship of the Deputy chairman: Senate Committee on Higher Education in person of Prof. Sandy O. Onor, the General Assembly of the AVCNU, launched the EagleScan anti plagiarism software which will completely curb the high rate of plagiarism in our schools thereby encouraging our students to put their brain to work which would on the other hand give us good graduates with high productivity rate," he said.
EagleScan software integrates global open source and closed source repositories, local open educational repositories and allows users to validate titles, abstracts, primary texts and generates originality report.
Such innovative ideas as this will in no small measure improve the quality of education and research in Nigeria and the DBI is very proud to be associated with this novel initiative of the AVCNU in Nigeria.