DBI MAY PARTNER NATIONAL HUMAN RIGHTS COMMISSION ON CAPACITY BUILDING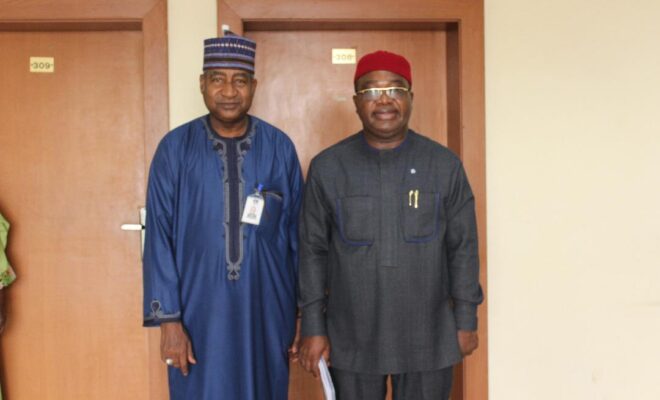 The Digital Bridge Institute (DBI) and the National Human Rights Commission (NHRC), may soon begin a partnership on capacity-building to sharpen the ICT set skills of the commission's workers.
A statement issued in Abuja by Akin Ogunlade, Head, Public Affairs, of DBI said this was the outcome of a recent courtesy visit to the Executive Secretary of the National Human Rights Commission (NHRC), Anthony O. Ojukwu Esq. on Thursday, 1st April 2021 by a DBI team led by its President/CEO, Prof. Mohammed Ajiya.
During the visit, Prof. Ajiya noted that the DBI as a training Institute established by the Nigerian Communications Commission is focussed on capacity building of the manpower of both government and private organizations especially in the evolving areas of ICT, Telecoms and general skills development to equip entities with the capacity to deliver on their mandates effectively.
He further stated that through the multi campus access of the DBI in all the geopolitical zones with residential facilities, (Abuja, Lagos, Kano, Asaba, Enugu  and Yola), DBI has been able to provide cutting edge access to skills development and enhancement in Nigeria.
While receiving the DBI leadership, the Executive Secretary of NHRC, Anthony O. Ojukwu  commended the leadership of the DBI for rendering valuable service to the nation through capacity building of the workforce. According to him, investment in capacity building is one of the major ways to ensure competent hands at the helms of affairs in the country.
He stated that there is need to bring the NHRC closer to the people at all levels. He noted further that capacity building is a top priority to the NHRC and the NHRC will consider a mutually beneficial collaboration with the DBI.
The DBI team included the President/CEO, Prof. Mohammed Ajiya, the Head of Business Development and Client Services, Mrs. Ngozi Nwoche and the Public Affairs team.
The NHRC team were the Executive Secretary, Anthony O. Ojukwu Esq, Director, Corporate Affairs & External Linkage, Halimat Oyelade, Head of ICT, Paulinus Nwoko and the Public Affairs team.