Delta 2023: God will help you, Uduaghan prays for David Edevbie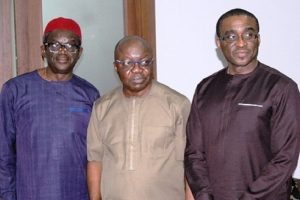 April 20, 2022
Dr. Emmanuel Eweta Uduaghan, the immediate past Governor of Delta State and chieftain of the PDP, Tuesday, received in audience his former colleague and now a gubernatorial aspirant in the 2023 general elections -Olorogun David Edevbie  at his Warri residence.
The former commissioner of finance of the 1999 set of the Delta State Executive Council said he had come to consult his former colleague turned leader about his aspirations to succeed Governor Ifeanyi Okowa in 2023.
Edevbie, also a former Principal Secretary to late President Umaru Musa Yar'Dua paid glowing tributes to the fatherly traits and administrative dexterity of Dr. Uduaghan while they were both colleagues in the cabinet of Chief James Ibori. He likened their relationship to that of a father/son; not a big brother/young brother relationship.
Stating the purpose of his visit, the financial guru said, "there is nothing I, nor any member of my team here, can say that you have not heard before and honestly, immediately I entered here, I became lost for words because you're an oracle of governance.
"We have opted instead to be blessed by your special prayers for my race and also to tap from your wealth of wisdom as we prepare for primaries.
Responding, Dr. Uduaghan said, "It takes a big heart to attempt to be the Governor of Delta State". He congratulated the former Chief of Staff to Governor Ifeanyi Okowa for throwing his hat into the ring.
Continuing, he said, "times have changed. Things are modern now. We want a Governor who can be in the mould of Obaseki, Soludo and any other modern and digitally-inclined Governor translating the resources of their states into sustainable wealth. God is the giver of power. He knows our hearts. I will study your manifesto and make remarks later.
"You were part of the beginning of democracy in Delta State. You're fully qualified to head the state and God will help you navigate the landmines on this rough path you're on.
God who saw you into this road will see you through it."
The immediate Past Governor rounded off his prayers by asking God for peace and safety of everyone involved throughout the electioneering process.