Development: Anambra community constructs 24km road, gets commendation
January 14, 2022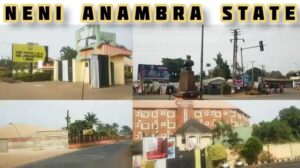 For constructing about 24 km internal roads, Chief Osita Chidoka, former Minister of Aviation has commended the people of Neni community, Anaocha Local Government Area of Anambra.
Chidoka, in a statement on Friday in Awka said that collaboration between the Local Government Area and communities was significant for development.
He said that while the government built only about 2.7 Kilometers of road, indigenes of the two communities constructed a total of 24 kilometers internal roads.
"I was at Neni to chair the third lecture series of the Martina Chinyere Enidom Foundation titled "Government and Community Partnership in Development Initiative: The Neni Example".
"Neni community, like most communities in Anambra boast of eminent business people, scholars and entrepreneurs with a combined net worth of between 700 million dollars and one billion dollars
"Some years ago, Paul Enidom, MD of Paul B Construction Company approached some of the town's rich men and proposed an internal road drainage and asphalt construction at the cost of his expertise.
"Today, Neni has constructed 24km, and the Anambra state government, in a rare show of support, constructed 2.7km of asphalted internal roads within Neni town.
"Neni is probably the town with the best stock of internal roads in Nigeria," he said.
The ex-minister commended Neni community, under the umbrella of the Neni town union for approving the setting up of Neni Road Maintenance Agency to sustain the initiative.
He said that the approach was a significant departure from typical attitudes of most communities and they had gone ahead to articulate standards.
"The community schools are crying for upgrades and the quality of instruction has declined progressively but the community has set up the Neni Development Initiative Group (NDIG) to raise funds for the immediate reconstruction of all the schools.
"The NDIG is also handling the upgrade of three healthcare centres in Neni, the plan is to provide quality healthcare for residents at affordable rates while sustaining infrastructure and operations cost," he stated.
Chidoka described the story of Neni community as a profound expression of the idea of "Unlock Naija'', a social reorientation advocacy pet project he founded.
"I call on those who want to move to `Naija Nation', that space where we do not wait for restructuring, secession or constitutional amendment to unlock our potentials, to come together now.
"We, in the `Unlock Naija Movement', believe in the fierce urgency of now, like the Neni community.
"We must eschew the triple evil rearing its head in our society including, superiority syndrome, disrespect and oppression,'' he said.
Chidoka added that the idea of coming together to delink from the moribund Nigerian state where the government had become the obstacle to unlocking potentials was the path to the future.(NAN)