How driver's bravery saved lives at NNPC filling station fire explosion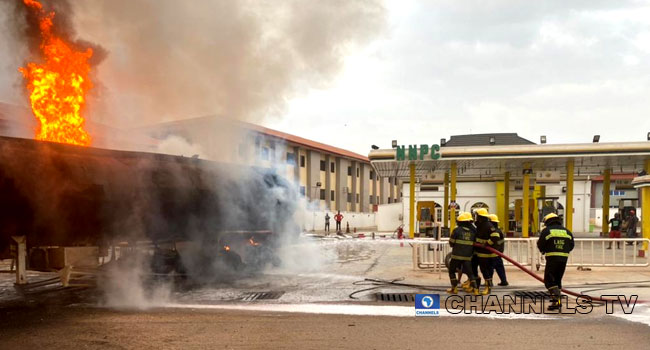 A petrol-laden tanker has exploded at the retail station of the Nigerian National Petroleum Corporation (NNPC) in the Ajayi Farm Bus-Stop area along the Alagbole-Akute Road in Ogun State, but no life was lost.
The tanker was said to have arrived that morning to discharge fuel at the NNPC facility when the incident happened.
A witnessed said the tanker was already discharging its content when the incident occurred.
According to the witness, the truck had discharged its first compartment and while discharging the content in its second compartment, a spark occurred at the underground storage tank which caused fire to melt the hose supplying petrol from the tank to the underground storage.
BRAVE DRIVER
As the underground storage tank was up in flame, the driver was said to have bravely jumped into the tanker and drove it away from the filling station, away from the raging fire. However, the tanker exploded by the road where the driver had moved it to.
This, according to a witness, mitigated the damage, adding that if not for the bravery of the driver, the entire filling station would have been burnt down.
The fire was said to have started at about 6:45am. Firefighters arrived the scene minutes later.
Officials of the Lagos State Emergency Management Agency (LASEMA) and some fire service personnel have cordoned off the area and have brought the fire under control.