In Dubai, I worked without pay and became homeless – Nigerian stranded in Dubai tells ordeal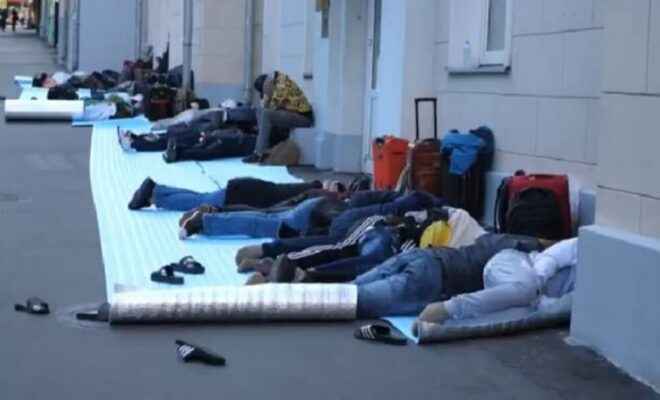 Deji Abiodun, one stranded Nigerians in the United Arab Emirates in a recent viral video has narrated the ordeal some Nigerians went through in the UAE, working for months without pay and having to cope with harassment from security agents.
Some of these Nigerians and other African migrants especially in Dubai had no formal education and are without valid work permit or residency papers. Employers take advantage of this to exploit them and they cannot seek legal redress because of their illegal migrant status.
Abiodun who came to the UAE in March, this year, on a tourist visa told Gulf News in a telephone interview: "I came to the UAE in March looking for a job. I worked for one company, but at the end of the month they did not pay me money. I left their accommodation and since I am not earning any money or do not have the resources to rent a place to live, I have nowhere to go."
According to Abiodun, there are people of African origin who are eagerly awaiting to return to their home country at the earliest.
The Covid-19 lockdown also compounded their situation: They could not return to their respective countries and they could not even undertake any menial job as commercial activities were shut down.
Meanwhile, the Consulate General of Nigeria, Dubai, had reached out to several of the stranded Nigerians in the Emirate who claim they have lost their jobs and are desperate to return to their home country. While some have been evacuated including citizens of other African countries, there are still some Nigerians taking refuge in parks, exposed to the elements with fear of dire health consequences.
In an earlier statement, Paul Okoh, Consular Section, Consulate General of Nigeria, Dubai and the Northern Emirates, said: "The Consulate General of Nigeria, Dubai is presently trying to ascertain the nationality of the stranded individuals to determine the Nigerian nationals among them. Presently, we have over 350 stranded Nigerians who are unable to pay for their tickets and are seeking to be evacuated. The mission is looking into their case."
Okoh said: "The Nigerian mission in the UAE have so far conducted 10 evacuation flights with 2,667 Nigerians back home. There are two more flights on August 7 and 8. The mission is presently seeking approval for more flights to evacuate stranded Nigerians to return home."
He added that the mission was working independently to determine the nationalities of the stranded individuals from Africa. "Once we find out people from other countries, we can reach out to their consulates and embassies."