#EndSARS protests: We've lost about 10 AK-47 rifles to miscreants – Buratai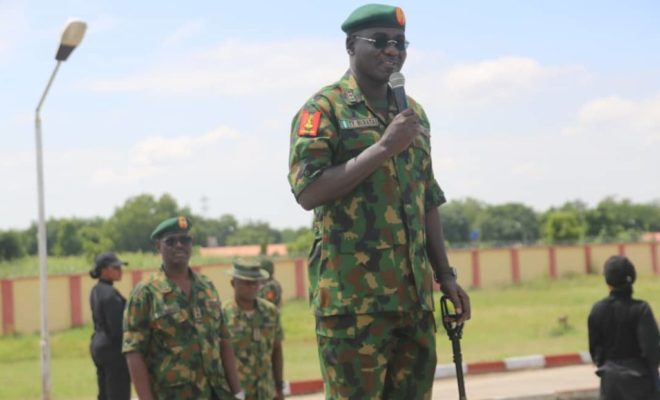 The Chief of Army Staff (COAS), Lt. Gen. Tukur Buratai, says the army has lost no fewer than 10 AK-47 rifles have been lost to these miscreants in the past two weeks across the country with attendant loss of lives of personnel
Buratai, addressing his Principal Staff Officers (PSOs), General Officers Commanding (GOCs) and field commanders at a meeting in Abuja said the recent activities by unscrupulous elements have shown their desire to acquire arms and ammunition at all cost from security personnel.
"No fewer than 10 AK-47 rifles have been lost to these miscreants in the past two weeks across the country with attendant loss of lives of personnel," he said.
He urged the military chiefs and soldiers not to be intimidated by threats by some Nigerians to report them to the International Criminal Court (ICC) for alleged human rights violations.
Buratai said anyone doubting their commitment to their constitutional responsibilities must be made to know that they remain committed, loyal and unwavering in ensuring the unity, stability and security of Nigeria.
He charged them to show critics that they are neither part of them nor in any way supportive of their activities at all times.
He also directed that any act of arson or attempt to kill or maim any military or security personnel and other law-abiding civilians must be responded to quickly and decisively.
"In dealing with any security threat, they (soldiers) must fully cooperate with personnel of the Nigerian Police Force and other security agencies and must ensure that everyone is in full compliance with imposed curfews and any other extant security instructions in force.