ESP: Osinbajo concerned over delay in financing source, wants CBN, commercial banks to ensure speedy release of structured lending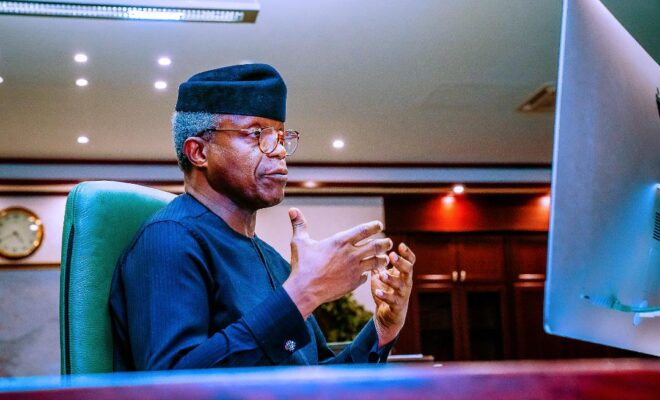 Oct. 12, 2021
Vice President Yemi Osinbajo has expressed concern over significant delays from the structured lending financing source of the Economic Sustainability Plan (ESP).
But noted that despite the challenges of funding and other issues, the implementation of the N2.3 trillion Economic Sustainability Plan (ESP) has made significant impact across different sectors.
According to a statement by spokesman to the Vice president, Laolu Akande, he said the ESP has helped the country to effectively tackle the fallout of the COVID-19 pandemic, by creating jobs and safeguarding existing ones, while also putting the economy on the path of sustainable growth.
Osinbajo gave the submissions on day one of the two-day Mid-Term Ministerial Performance Review retreat, presided over by President Muhammadu Buhari, while delivering the progress report on the ESP implementation.
At the retreat organised to assess progress made towards the achievement of the nine key priorities of the Buhari administration, Osinbajo stated that "the ESP tried to mitigate the shock of COVID-19, but also took the opportunity to try to tackle longstanding structural challenges while repositioning the economy for the future."
He explained that following the global pandemic, "there were sharp declines in some key sectors: Transportation sector declined by 49%, Hospitality sector fell 40%, the Education sector fell 24%, Real Estate declined by 22%, Trade by declined by 17% and Construction declined by 40%.
But since the ESP implementation began, which was credited as a major reason why Nigeria exited recession faster than predicted, data showed that these sectors have rebounded to positive growth:
"Transportation to 77%, Hospitality to 2%, Education to 1%, Real Estate to 4%, Trade to 23%, and Construction to 4%."
Speaking further, the Vice President noted that, "in response to the pandemic, the President took two actions. The first was to set up a small inter-ministerial Committee headed by the Minister of Finance to quickly examine the implications of and the immediate mitigation steps that would be taken for the economic shocks we were experiencing.
"The second step which Mr. President took was to ask that we draw up a full Economic Sustainability Plan to provide at least a 12-month response to the fallout of the pandemic. And Mr. President asked me to chair the Committee to draw up the plan and later to implement it".
"We were clear – and this was Mr. President's position – that the only way of avoiding an economic disaster that could last for years was for government to essentially put forward a major fiscal stimulus plan; with clear objectives of saving jobs, creating new ones, supporting businesses that may close down, and employees that may not be paid during lockdowns, and, of course, healthcare support to reduce the COVID-19 caseload."