Excitement as Reuben Muoka becomes NCC Director of Public Affairs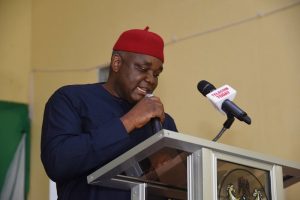 One of Nigeria's finest ICT journalists, Reuben Mouka, has replaced Dr. Ikechulkwu Adinde, as the new Director of Public Affairs of the Nigerian Communications Commission (NCC).
His return to the Public Affairs department has created a buzz of excitement among journalists most of whom hold Muoka in high esteem as a thoroughbred media practitioner with consummate experience in all aspects of the media.
Muoka made a name in ICT journalism at the Vanguard newspaper and was a strong voice for the deregulation of Nigerian telecom right from the military years.
His strong advocacy, reportage and analysis pushing for deregulation formed an unstoppable momentum with the voices of other stakeholders in the ICT space to turn such momentum to a movement, leading to the eventual deregulation of telecom by military President, Ibrahim Babangida, via Decree 75 of 1992.
Muoka would later join the NCC where he brought to bear his media experience and professional elan and was at a time Head, Public Relations (2009 to 2015). He was also at one time, the Deputy Director, Policy Competition and Economic Analysis at the NCC.
He succeeds Dr. Ike Adinde who is now Director, Special Duties of the NCC. Muoka officially resumed on Monday, June 20, 2022.
Muoka's odyssey in journalism and corporate media management has seen him move from Vanguard newspaper where he was Hi-Tech Editor to manage the Corporate Affairs department of MTS First Wireless company, one of the early birds in Nigeria's deregulated telecom sector. The winding down of MTS saw Muoka join the NCC well over a decade ago.
Muoka holds BSc and Master degrees in Mass Communication.
Over the years, Muoka has carved a reputation as a media-friendly and savvy PR guru with wide reach in the print, electronic and new media circuit, maintaining cordial relations with professional media colleagues from his active days in journalism where he was at a time the chairman of the then League of Communications Correspondents.