Full transcript of what Falz told CNN Amanpour on #EndSARS crisis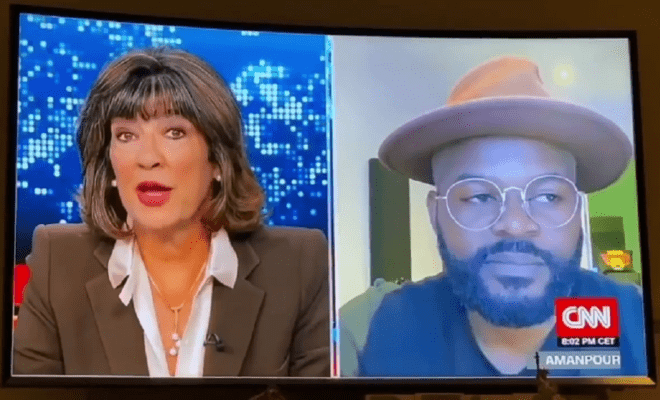 On Thursday, CNN International correspondent, Christiane Amanpour, had a chat with Folarin Falana, aka Falz, on the EndSARS protests in Nigeria. Below is the full transcript.
Welcome to the program, everyone. I'm Christiane Amanpour in London.
The United States and the United Nations are strongly condemning the violence that's erupted in Nigeria.
Activist and renowned rapper, Folarin Falana, better known by his stage name, Falz, led one of the first protests two weeks ago and he's been taking part ever since, and he's joining me from Lagos.
Falz, welcome to the program.
We're coming to you because you've obviously got, you know, the pulse of the people. You've got 7 million Instagram followers and you have been organizing some of these protests and joining in. Can you tell me how this all started? What turned this city into violence?
FALZ, RAPPER: Wow. It's really crazy for everyone out here. It's a horrible, horrible time. And if this was yesterday, I probably wouldn't have been able to take this call because I was extremely distraught. It was a horrible, horrible incident.
But it started probably about two weeks ago, roughly about two weeks ago. On the 8th of October, myself and another artist named Rontown, we had shared on our Twitter and Instagram pages that we were going to do a walk, just a march, a peaceful protest against all forms of police brutality, all forms of police misconduct in general. And we did that with the #EndSARS.
The hashtag was already in existence. You know, this is something that was already a big thing on social media but no one had actually gone ahead to do a physical protest. So, we decided to take that extra step. So, we went up on the 8th. I think it was a Tuesday. We went out and probably were expecting maybe around 50 or 100 people, but when we got around about 2,000 people or so that came out on that very day. And it was huge.
You know, we did a march to a police station, which has some high-ranking officers here in Lagos and we handed in a petition just saying that the youth as a group were very, very unhappy with, you know, the way things were going, and we were really, really furious about police brutality, police harassment, police extortion. And, you know, enough is enough, basically. Everyone was standing up, you know, everyone was lending their voice to this particular cause. So, from that day up until now, back to back to back it's been a different state in the country because there are 36 states in total.
AMANPOUR: Right.
FALZ: But apart from that very one on that day, we didn't even have to call for people to come out in other states. Everyone just trooped out, you know, on their own. It's been crazy. It's been really, really crazy.
AMANPOUR: OK, Falz?
FALZ: Yes.
AMANPOUR: Let me just interrupt you a bit because I just want to ask you so that our viewers are clear. End SARS is the hashtag and it's the movement. SARS, for everybody to understand, is a special police unit, right, it's the Special Anti-Robbery Squad.
FALZ: Exactly.
AMANPOUR: What is it about them? And apparently, they are — they're not in uniform, they're plainclothes, and for years you, have been protesting against them. What is it that you're actually protesting? What do they do?
FALZ: It's all forms of violence. It's all forms of brutality. And the offenses that they're supposed to be protecting us against is pretty much what the — is pretty much the offense they end up committing. The SARS stands for Special Anti-Robbery Squad but they're committing armed robbery because we hear about numerous cases where they stop young people just because you look fresh, just because you look — you know, you look young and you look like you're making a lot of money, they'll stop you, they'll harass you, they'll go through your phone. And sometimes they check – they search for messages from your bank, for example, so they could see your bank account balance.
And when they do that, they drive you to an ATM, get you to withdraw money and, you know, before they let you go, they take the money from you. If they can't get money off you, they lock you up. We hear about several, several cases where they've locked people up and those people have disappeared because they were eventually killed. So, it's really, really crazy.
If you're not as lucky when you encounter them, they could shoot you on the spot. It's all forms of violence. They beat people up. They, you know, torture people. They murder. They commit armed robbery. It's everything. It's everything. And there have been so many cases. And —
AMANPOUR: Let me just ask you a question. Let me ask you a question because you're right, this has been going on since about 2017. Now, as you know, the state governor in Lagos has denied there were any deaths, although despite video, despite Amnesty International and eyewitness, the Nigerian military or at least a wing of it, the army has said it's fake news, this — you know, and they don't believe it.
But here's what your president has said, because to an extent, he says that he's heard you and these forces should have been off the street, he says.
(Plays President Buhari's speech)
MUHAMMADU BUHARI, NIGERIAN PRESIDENT: The disbanding of SARS is only the first step in our commitment to extensive police reform in order to ensure that the primary duty of the police and other law enforcement agencies remains the protection of lives.
AMANPOUR: Falz, what do you make of that and what — I mean, how much stock do you put in the pledges for police reform?
FALZ: It's infuriating. It's annoying. It's frustrating. And I think that's exactly how everyone is feeling. Because they've been reforming the police for the longest time but we've never actually seen actual action. And they said — I was about to say, since 2017, they've been announcing that the SARS unit has been disbanded. They announced in 2017, announced in 2018, announced in 2019, now in 2020.
After we started these protests, they announced again. And in the same breath, announced they were replacing that unit with a new unit called the Special Weapons and Tactics Unit. And it's just — they just think we're stupid because you're literally just renaming this unit and expecting us to say, oh, yey, wow, that's great.
AMANPOUR: Can I ask you something because —
FALZ: It's insensitive.
AMANPOUR: I want to ask you what you're demanding. But first I want to ask you, because you alluded to, you know, the stressful situation and the lack of safety. There are a lot of young people who we've reached out to, a lot of people who were very upset and very — you know, like you, but didn't want to appear on camera because they're afraid for their lives. Are you afraid for your own safety?
FALZ: I'm not afraid for my life. I'm not afraid for my life because where we are right now, I feel like I could easily die by anything else anyway, you know, like there's a scare — man, I don't even know where to start from. We have nonexistent health care, for example. We have a seriously high level of poverty. There's unemployment. It's in — we're in a critical state because of how much corruption and mismanagement of funds that we've — you know, we continue to see on a daily basis. So, if I don't come out to sort of complain about the state of things, I could sit down and, you know, I could have an accident in my way to work or something and I could die as a result of that because the state of the health care is nothing to write home about. We don't even have proper hospitals. Our hospitals aren't well equipped.
You know, people have to travel abroad to get proper health care. And every Nigerian — and we keep on saying this, every single Nigerian is one sickness away from passing away. So, what kind of life am I living anyway? Like why should I be afraid of dying? I'm going to die anyway, so what's the point?
AMANPOUR: Falz, let me ask you because some of the things you're saying resonate quite strongly with what's happening in the United States, certainly the racial uprising for justice, and obviously the need for equal health care and the like. And you know it's playing very heavily into the presidential election right now. I guess I want to ask you whether you feel a sense of solidarity coming from the U.S. and other places where politicians, government leaders and, you know, singers, artists, rap artists, are basically, you know, saying that they're coming — they're supporting you. Do you feel a sense of solidarity?
FALZ: In a way, yes, and, you know, it's — but I feel more — it's more depressing to think about what we're going through because, you know, the whole Black Lives Matter movement happened in the United States and it's more — that's a more complicated issue, you know, with racism and all that stuff. But out here, it's black people doing the same thing to their brothers. It's us. It's us on us violence. It's even more depressing to think about.
So, it's a really, really terrible state that we're in right now. And there was a horrible, horrible massacre that went on Tuesday. And as a result, everywhere is up in flames. There's looting. There's shooting. There's — it's a chaotic state right now. I don't even know where we're going from here.
AMANPOUR: And, Falz, I mean, you know, we always have to remind everybody, you know, you're talking about the biggest city in Africa (Lagos). It's Nigeria's commercial capital. And this is a very rich country. It's had a hugely significant economy. Do you think the government will pay attention? And what precisely are you demanding to end this situation now?
FALZ: The government has to pay attention. All we're asking for is not to be killed. All we're asking for is not to be extorted. All we're asking for is not to be robbed by the officers that are supposed to be protecting our lives and property. All we're asking for is not to be raped. All we're asking for is not to be beaten up. I don't think it's too much to ask.
There's so much evil that these officers are perpetrating, you know, under the police — in the police uniform and all we're asking is this stops.
We've continued to protest against this for about two weeks straight, and the government has just continued to drag its feet. They're not really giving any real response to what we're complaining about and it's very, very worrying to think about.
AMANPOUR: Falz, thank you very much, indeed. Thanks for giving us an update. And we understand, you know, the president is talking to the nation. We'll see whether he delivers on any of his promises. Falz, thanks for joining us from Lagos.
FALZ: Thank you so much.
Courtesy: CNN