Gov. Udom spends N8.85bn in one year on upkeep, others: Documents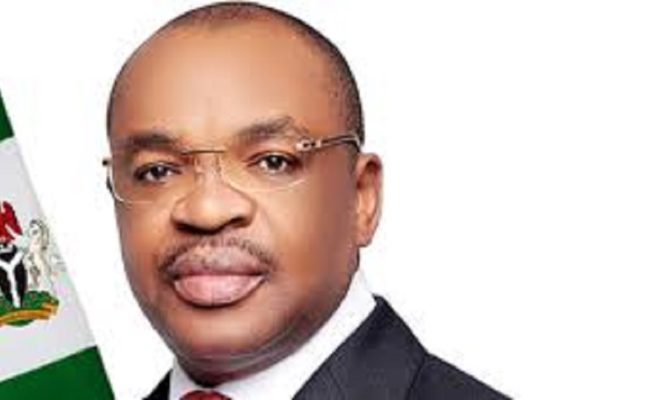 Those who say that cost of governance is very high in Nigeria may look to Akwa Ibom where Governor Udom Emmanuel under sundry guises including security, press, upkeep, traditional rulers spent over N8.851 billion in 2016 alone, to find justification.
Bank documents seen by our reporters showed that the funds were withdrawn in frequent instalments and captured as expenses for state boundaries, special logistics/coastal patrol, hosting of stakeholders' meetings, protocol for the governor's office, upkeep, security operational expenses, monthly allowance for security formations, security and logistics for stakeholders.
Our reporters also captured other sub-heads under which hefty amounts were withdrawn sometimes up to five times in a day. All these aside a monthly allowance for logistics and maintenance.
Some persons who spoke to our reporters in Uyo condemned the high cost of governance in a democracy which they said was not peculiar to the state. "It's worse at the Federal level," according to a businessman, Nsikak Imoh.
Some members of the All Progressives Congress, APC, the main opposition party in the state, had accused the Udom government of being wasteful. They said that the state had been declining in fortune and prosperity since 2016.
They recalled that in 2018, Akwa Ibom had the highest unemployment rate (highest number of unemployed persons) in Nigeria at 37.7 percent, according to data from the National Bureau of Statistics, NBS.
In the Q2 2020 data from NBS, Akwa Ibom unemployment shot up to 45 percent, only better than Imo State, described as the unemployment capital of Nigeria.
Akwa Ibom is also one of the high debtor states in Nigeria. In 2018, on account of the huge borrowings by the Governor Udom Emmanuel government, the state's total debt burden (both external and domestic debt) was a staggering N215 billion. By 2019, it had jumped to N239 billion, thus provoking criticisms from some stakeholders in the state.
Recently, the APC, Akwa Ibom State Chapter in a statement signed by its Publicity Secretary, Nkereuwem Enyongekere, called on the governor to explain a debt of N239.2 billion incurred by his administration. Recall that the Debt Management Office recently ranked Akwa Ibom as the third-highest debtor state with N239.2 billion. The APC said over 80% of the debt was incurred by the present administration.
The APC wondered how a government which has received over N1.6 trillion into its purse would keep on incurring debt with no commensurate infrastructural facilities to show for it.
"This revelation simply highlights just how badly the governor has managed our finances since he became our chief executive. Akwa Ibom people deserve explanations on what Gov. Udom Emmanuel has done with all the resources his administration has earned," the APC said.
However, if the APC had been wondering how Gov Emmanuel had been managing the state's resources, our investigations may have provided answers to their inquiry.
Transaction documents for 2016 seen by our team of investigative reporters showed how officials attached to the Governor's office made withdrawals all through the year to service sundry matters. From only three accounts, namely: Office of the Governor, Office of the Governor-Upkeep, Office of the Governor-Protocol and Office of the Governor-Press Section, over N8.5 billion was withdrawn in total. All the accounts are domiciled with Zenith Bank.
On May 13, 2016, the sums N230,350,000.00 (marked for 'Operations')  and N169,650,000 (for Meeting) were withdrawn by Mr. Peter E. Peter, designated as PS Government House. On 01-07-2016,  N150m (monthly allowance-operational expenses) and N193m (monthly allowance for logistics and maintenance) were withdrawn. Same day, another N200m said to be for security formations was debited.
Documents also showed that the account of the Office of the Governor was regularly serviced with inflows from the state government's account. Inflows of the sum of N671,995,300 on each occasion were captured on the following six dates: 12-02-2016; 28-10-2016; 31-3-2016; 22-12-2016; 02-02-2016 and 29-06-2016.
One of the accounts tagged Office of the Governor-Press Section account had not less than N437 million debited from it in 2016 ostensibly to service press matters including advertising the projects and performance of the governor in the media. However, investigations by our reporters showed that much of that money was diverted to non-press-related issues.
A careful study of the documents showed that on some days, up to six debit transactions take place in the separate accounts. For instance, on December 13, 2016, Mr Peter made four withdrawals from both the Upkeep account and the dedicated Governor's office.
On June 13, 2016 the following debits were captured: N90m for Stakeholders' meeting; N135m for security formations; N150m as monthly allowance for logistics and maintenance; and N175m for security allowance.
There were many other huge sums withdrawn in cash and captured as expenses for state boundaries; special logistics/coastal; hosting of stakeholders' meeting among others.
Our reporters gleaned off further documents that showed more fiscal recklessness for 2017 up to 2019 in a manner that justifies the cries and allegations of the opposition APC in the state.