Governance is not by lies and propaganda – Aisha Yesufu tells Amaechi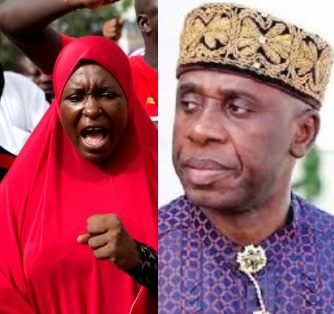 Aisha Yesufu and Rotimi Amaechi
Co-convener Bring Back Our Girls, BBOG, Aisha Yesufu has condemned the Minister of Transportation, Rotimi Amaechi for his 'refusal to admit' his convoy was attacked on Sunday.
Yesufu who took to twitter said, "Instead of preparing notes to tell the President that the insecurity is real, you called it fake news. When they are done with us and our children, they will come after you and your children"!
"Chibuike Rotimi Amaechi you should be ashamed of yourself. My sister, my brother and my sister-in-law were in that train. When your convoy scattered and you fled like a new born mouse whom water have been poured on, it was witnessed!. GOVERNANCE IS NOT BY LIES & PROPAGANDA"!
"The Buharists who insulted Nigerians for asking for video of the 250 bandits Nigerian Police killed are asking Aisha Yesufu for the video of the attack at mando road. This cluelessness is what has led to increased insecurity. The Commander-in-chief is an incompetent failure."
The Minister of Transportation, Rotimi Amaechi, had debunked news making the rounds that his convoy was attacked by bandits at the Rigasa train station in Kaduna state on Sunday, saying 'it is Fake News, completely concocted'.
He noted that the false story has further lent credence for the need by the Federal Government to pass the social media law in other to checkmate fake news.
Responding to Yesufu, the minister in a twitter message to her said "Madam, I was not attacked, I did not see or escape attackers, bandits or kidnappers. I did not "flee like a…" insults and abuses will not change the fact that I was not attacked or escaped attack, in Kaduna last night. We can still be respectful and courteous here.
An online media had reported on Sunday that the minister escaped as kidnappers attacked Abuja-Kaduna train passengers.