A Governor Does Not Have The Authority to Administer Oaths – Nigerian Blawg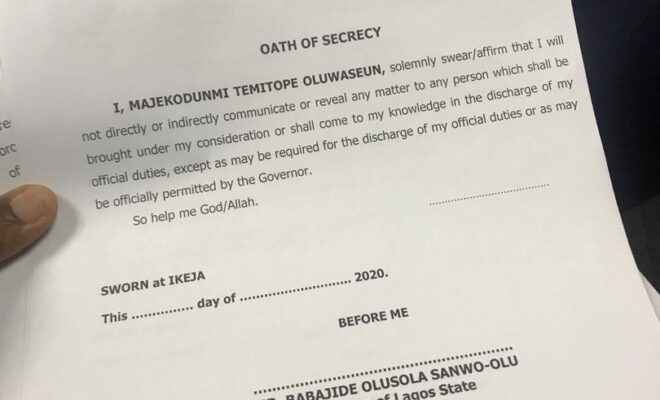 Nigerian Blawg has released photos of an alleged oath of secrecy document that Majekodunmi Temitope Oluwaseun, one of the youths representing the #EndSARS movement at the Lagos State #EndSARS Judicial Panel was asked to sign before the Lagos Governor.
According to  the Nigerian Blawg, an online legal education platform in a series of tweets on Tuesday, "While the authenticity of the document is yet to be verified, this thread seeks to answer the validity or otherwise of such an oath.
"Section 10 of the Oath Law of Lagos State does not mention the Governor as having the authority to administer any oaths in the State".
"Furthermore, Section 10 of the Oaths Act of the Federation also lists persons with authority to administer oaths. Same also does not include @MBuhari."
"The aforementioned oath of Secrecy is therefore invalid for failure to comply with the Oaths Law of Lagos State", it wrote.
Meanwhile, the panel reportedly withdrew the oath before swearing in the youth reps.
Moe Odele, an End SARS advocate and co-founder of the Feminist Coalition, gave the update.
"This has been rejected after concerns were raised and a dialogue was held this morning. The panelists will not be signing this document," the lawyer tweeted.
This led to the delay in starting the proceedings.