I'm not a contractor, I've never been awarded a contract by NDDC – Sen. Urhoghide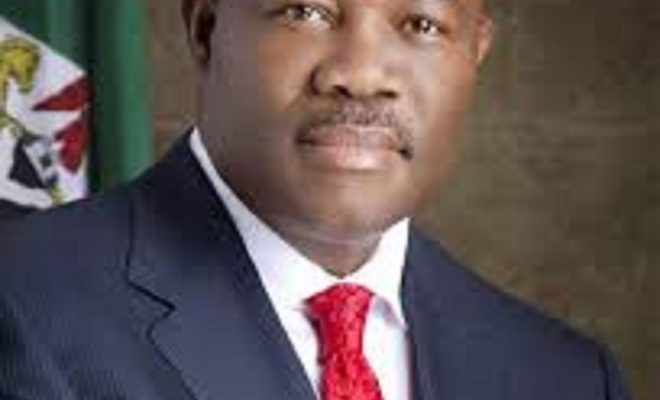 Senator Matthew Urhoghide has denied reports that he was awarded contracts by the Niger Delta Development Commission (NDDC). 
Senator Urhoghide representing Edo South in the upper lawmaking was named by the Minister of Niger Delta Affairs, Godswill Akpabio, as one of the lawmakers who benefited from contract racketeering in reports making the rounds.
According to the senator in a Facebook statement on Tuesday in response to the allegations, the misleading newspaper publication would have Nigerians believe that I was awarded contracts for which I was paid undisclosed amount of money.
The minister of Niger Delta Affairs had said the lawmaker was allegedly awarded six contracts by the NDDC.
However the Senator told Channels television's Sunrise daily that, "For Akpabio to say I have been a beneficiary is unfortunate and a wicked lie and I just believe whatever mischief he wanted to perpetuate, I think Nigerians, through my own explanation, should be able to read between the lines".
He said the claim by the Minister is unfortunate, describing it as untrue and a ploy to misinform the public and his constituency in particular.
He claimed "Akpabio's records are not even correct. The contracts (NDDC) I have attracted to my constituency are in excess of eleven, adding that "he (Akpabio) does not know what is going on."
Out of the six contracts that Akpabio mentioned, four are street lights projects which are ongoing with the contractors (gotten through competitive bidding) not paid a dime as mobilization, Senator Urhoghide said.
The lawmaker also clarified that the projects are NDDC projects in his constituency.
The Senator's Statement reads in full:
RE: NDDC CONTRACT AWARD PUBLICATION OF JULY 27, 2020.
My attention has been drawn to the newspaper publication in the THISDAY Newspaper and many other Nigerian newspapers of July 27th, 2020.
The misleading newspaper publication would have Nigerians believe that I was awarded contracts for which I was paid undisclosed amount of money.
I, Senator Matthew Urhoghide hereby deny all allegations made against me and their insinuations. In setting these spurious records straight, the said contracts alleged in the said publications and the status of these projects, to the best of my knowledge are as follows:
1. Etete Road Project:
NDDC awarded this to a company three years ago. I am not privy to the company it was awarded to. However, the said company was not mobilized financially and therefore abandoned the project.
2. Nneka /Akpabo Street/Ugbor Project:
NDDC also awarded this project, but as characterized by the NDDC modus operandi, the contractor was not mobilized and the contractor also abandoned the project.
3. Idusogie Eweka Road Project:
This project was awarded to a company known as AC EGBE Construction Company. This company I am informed, has been doing business with NDDC since its inception. The project is presently ongoing. The contractor returned to site after two years since the award because the company was not paid mobilisation that will enable it move to site.
4. The Street Light Project:
These projects are ongoing in Oredo , Ikpo-Okha, Orhionmwon and Egor Local Government Areas of Edo South Senatorial District. These contracts were awarded by NDDC to companies I do not know. The projects are presently ongoing. I am told that the contractors have not been paid any amount on the contracts even as of today.
In view of the foregone, I state hereby with all sense of responsibility that:
(A). I am not a contractor and I have never bidded for nor been awarded a contract by NDDC.
(B). I have no relationship whatsoever with the contractors that the NDDC awarded the aforementioned contracts to.
(C). No amount of money was ever paid to me directly or indirectly in connection with these contracts.
(D). I have not in any way benefitted monetarily for the award and execution of these contracts or any other contract for that matter. I challenge any contractor to come forward with any claim of financial benefits accruing to me in the award and execution of these projects.
The general public is at liberty to carry out a search at the Corporate Affairs Commission to ascertain the ownership of these companies.
As a Senator of the Federal Republic of Nigeria representing the good people of Edo South Senatorial District of Edo State, I have the responsibility of attracting projects to my Senatorial District. This is part of my representation, and I am duty bound to attract these to my Constituency.
But for anyone to misrepresent that my dogged pursuit of good representation for my Senatorial District by attracting projects equates to being a beneficiary of a contract award or a flatout award of these contracts to me is a calculated attempt to cast aspersions on my good name.
I state unequivocably that I never benefitted in the award or execution of these contracts.
It is very unfortunate, that these allegations are made by a one time Senator who knows that attracting projects to one's Senatorial District is not contracts awarded to the personal benefit of such a Senator.
Senator Godwill Akpabio was a Senator of the 8th Senate and was a member of the NDDC committee of the senate. It will be proper and a good thing to do, if he can publish the numbers and cost of contracts awarded to him by NDDC during his tenure as a senator.
These projects go through procurement processes of the respective MDAs, NDDC inclusive, that award, supervise and pay contractors directly for contracts executed.
I therefore reject Senator Akpabio's allegation in its entirety and call on him to set the record straight.
Senator (Pharm.) Matthew A. Urhoghide (FPSN, FNAPharm)
Edo South Senatorial District, Edo State.