June 12: Support a Democratic system, demand accountability from elected leaders – Buhari tells Nigerians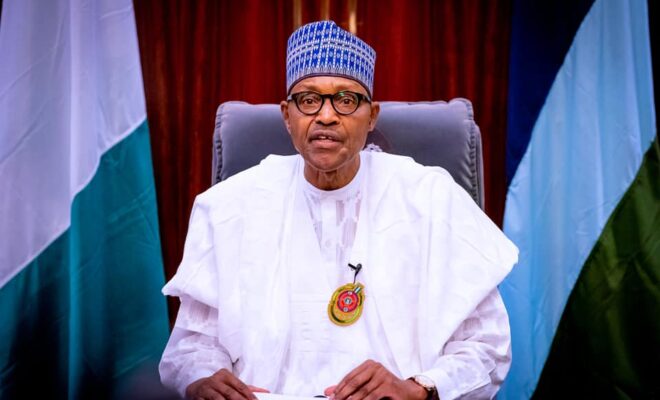 June 12, 2021
President Muhammadu Buhari has called on Nigerians to support a democratic system that works for all and not for a section or a select few  while also demanding accountability from  elected leaders.
The President said this in a nationwide broadcast on Saturday in Abuja to mark this year's Democracy Day.
According to Buhari, "When this administration decided to change our Democracy Day from 29th May to June 12th in my first tenure, it was not only to honour the sacrifices of the men and women of our country who fought for the return to democracy but also to demonstrate our commitment to satisfy the aspirations of the people and creating an environment for democracy to be an accepted way of life".
Buhari reiterated his administration's commitment  to providing an enabling environment for a free, fair and credible electoral system.
"However, you need to play your part by getting involved at any level you can supporting a democratic system that works for all and not for a section or a select few and demand accountability from your elected leaders."
He noted that his commitment to bequeathing a sustainable democratic culture remains resolute, "my pursuit of a fair society remains unshaken and my desire to see that Nigeria remains a country for each and every one of us has never been stronger."
The president added that Democracy Day for us is a celebration of freedom and a victory for one people, one country and one Nigeria.
On security challenges confronting tha nation, he assured Nigerians that every incident, however minor gives him great worry and concern and "I immediately order security agencies to swiftly but safely rescue victims and bring perpetrators to justice".
"When you elected me as your President in 2015, you did so knowing that I will put an end to the growing insecurity, especially the insurgency in the North East, but the unintended consequences of our scattering them in the North East pushed them further in-country which is what we are now facing and dealing with."
He however praised indefatigable CAN DO Spirit of Nigerians which has sustained us "and would keep pushing us to put our challenges behind us."