Kill them! Minister Charges Correctional Centre Officials to Kill Attackers
January 18, 2022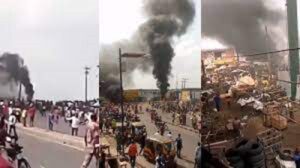 The Minister of Interior, Rauf Aregbesola, has instructed security personnel guarding the Agodi Medium Security Correctional Centre, Ibadan to kill any person who attacks or dares to breach the security of the centre. This followed series of attacks on correctional centres across the country leading to jail breaks.
He gave the order while addressing officers at the correctional centre during a tour of the facility on Monday.
The minister said any attack on the Agodi Centre must be met with maximum force without sparing the attackers.
"This is a dangerous zone for those who are not invited. Whoever attempts to breach this facility for whatever reason is already dead; he must not live to tell the story, somebody else must tell the story," he charged the prison security.
He ordered that all buildings around the centre be demolished with immediate effect.
"All buildings or shops built within 50 metres from the fence of Agodi medium correctional facility must be demolished with immediate effect," he said.
The minister said the centre is a red zone and urged the personnel of the service to always be at alert.
He commended the officers for their efforts at preventing the outbreak of the COVID-19 pandemic at the facility, adding that he was impressed by the strict observation of Covid-19 protocols at the centre.
The minister charged the custodial officers to use their training and exposure to reform inmates, so that they could come out better than when they arrived at the facility.