LASG CONVENES STAKEHOLDERS' MEETING ON APAPA ENFORCEMENT ALLEGATION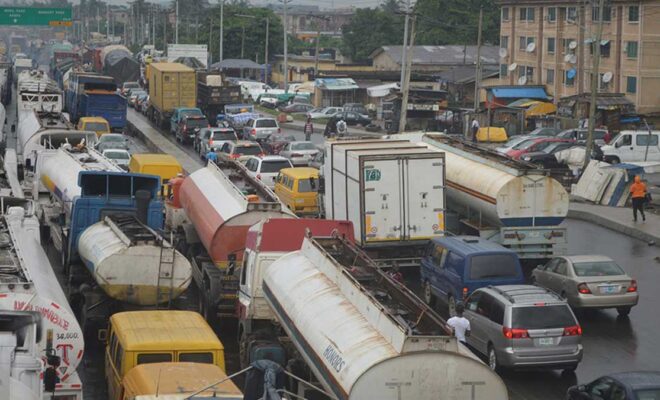 Sept. 16, 2021
The Lagos State Government has convened a meeting with stakeholders and Truckers Unions to address reports that the Traffic Management Enforcement Team charged with the responsibility of solving the gridlock problems at the access leading into Apapa Ports and its environs had compromised its position on enforcement.
Speaking at the stakeholders' meeting held at Alausa, on Tuesday, the Special Adviser to the Governor on Transportation and Chairman, Traffic Management Enforcement Team, Mr. Oluwatoyin Fayinka, stated that the team is not a party to the extortion of truckers along the port access roads.
Fayinka reiterated that his team remains in charge of all enforcement, through the Lagos State Traffic Management Authority (LASTMA) supported by the Nigerian Police Force, stressing that the officials and individuals beating up drivers and carrying out illegal sanctions are not part of the team set up by the Lagos State Government.
While urging the truckers to table their complaints, the Special Adviser declared that the forum would expose parties responsible for the current state of things in Apapa, adding that physical and graphic evidence will go a long way to legitimise allegations.
He also informed that the State Government has approved a single ticketing system in the sum of N800 for waste management at the parks while tax certificates will be issued to truckers, stressing that the initiative was designed to cut down the various levies placed on trucks by transport unions in each Local Government.
In his contribution, the Nigerian Ports Authority (NPA) Coordinator, Mr. Nnorom Emmanuel, enjoined the State Government to block the loopholes created since the e-call up system was initiated, stating that most of the bonded terminals have been converted to temporary holding bays.
He expressed the need for prompt clearance of broken-down vehicles on the access roads in order to minimise congestion, just as an investigation is necessary to uncover fraudulent activities around the corridor.
On his part, the Chief Superintendent of Police, Mr. Adebowale Ganiu, affirmed that the personnel attached to the Special Adviser's enforcement team act as backup for LASTMA along the Port access roads, assuring that more officers will be deployed to remove thugs perpetrating nefarious acts.
Also speaking, Mr. Rilwan Bello, a member of the Association of Maritime Transport Owners (AMATO), requested that land should be allocated for trucks to offload empty containers while the locations would also serve as holding bay for vehicles awaiting call up.
Other stakeholders including the Vice President, Council of Maritime Transport Union and Association (COMTUA), Mr. Adeola Adeyemi and the Organising Secretary, Mr. Adeyinka Aroye, stated the need for all stakeholders to work in harmony to eliminate delay in port operations and confront the dubious activities of law enforcement officers creating extortion points on the roads.
Mr. Sola Giwa, a member of the Traffic Management Enforcement Team, assured the stakeholders that their requests will be given necessary consideration, urging the truckers to also play their part in the efforts to restore sanity to Apapa and its environs.