LASUBEB, ARTSWAX UNVEIL EKO POEMS FOR PUBLIC PRY SCHOOL PUPILS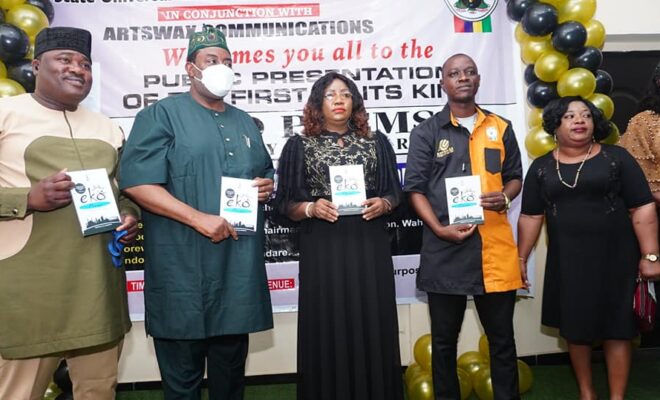 Aug. 11, 2021
The Lagos State Universal Basic Education Board (LASUBEB), in collaboration with Artswax Communications, recently launched, "Eko Poems: An anthology of Nursery Rhymes".
Speaking at the book launch in LASUBEB Multipurpose Hall, Maryland Ikeja, the Executive Chairman LASUBEB, Mr. Wahab Alawiye-King, disclosed that the book comprised collections of best selected poems written by the pupils of public primary schools in Lagos State.
He noted that the government created a platform with the theme, "My Lagos, The Today, The Tomorrow", for pupils to express themselves through writing, adding that the idea is part of the State's efforts in fostering creative thinking among pupils.
The Chairman noted that the era of nursery rhymes that depict foreign distinctions are gradually fading out, stating that the initiative has challenged the children to reflect on the society with its values and the character of people around them.
"I am elated at the final outcome of the initiative, which undoubtedly opens up the minds of our young ones to literary expressions", he said.
Alawiye-King commended the Board's partners on Eko poems for their immense contributions towards the success of the project, just as he equally congratulated the outstanding young poets of public primary schools in Lagos for making the historic event possible and encouraged them to continue to express themselves with their pens.
The initiator of Eko Poems and Director of Artswax Communications, Ola Awakan, revealed that the emotional outburst of the innocent young minds is exemplified in the book.
He, thereafter, called for corporate social support in achieving the first Eko Nursery Rhymes App with poems extracted from the anthology.
Recall that 'Eko Poems' was flagged off at the maiden edition of Primary Schools Poetry Festival in January last year. Over 300 pupils of State primary schools participated in the poetry competition at the end of which 63 poems were selected and documented into a book for future reference after the preliminaries.
Caption: L-R Board Member Special Project, Mr.Bayo Adefuye; Executive Chairman, LASUBEB, Mr. Wahab Alawiye-King; Board Member, Co-Curricular, Mr. Sherifat Abiodun Adedoyin; Director, Artwax Communications, Ola Awakan; Director, Co-curricular Department LASUBEB, Mrs. Abimbola Vaughan and Mrs. Folashade Abass at the unveiling of Eko Poems