Low voter turnout recorded nationwide, voters blame INEC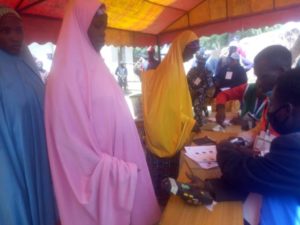 There was low turnout of voters in Saturday's Governorship and State House of Assembly elections in most parts of the country according to correspondents' reports.
In Lagos, voter apathy was noticed in Somolu, Ikeja, Agege, Oshodi-Isolo and other areas compared to the massive turnout recorded in the Presidential election.
Same was reported in Delta State as low voter turnout became a consistent feature across most polling units in the state.
"In my polling unit, about 500 voters were recorded in the Presidential election but today we are not up to 200 as at the time I voted," a voter at Ibusa in Oshimili told our correspondent. Most polling units visited by our correspondent had the same feature of low voter turnout.
In Enugu state, voter apathy manifested across the state. In Enugu South Council Area of the State only a handful of voters were seen casting their votes.
Some of the voters blamed voter apathy on the outcome of the last election. "INEC did not act as it promised and many people think the result of the Presidential election did not reflect the pattern of voting hence they refused to participate in today's election,' a voter who preferred not to be named said.
They described the turnout in some polling units at the LGA as the "lowest ever".
At Christ Church polling units 001 to 005 and Bigard Memorial Seminary polling units 004 to 007, only few voters were seen casting their votes unlike how people trooped out in the last election.
In some parts of Kano and Kaduna monitored by our correspondents, voter apathy persisted.
Analysts attributed the low voter turnout to the disenchantment of voters who felt robbed by the outcome of the presidential election on February 25.