Meet first African Fellow of the American College of Lifestyle Medicine; a Nigerian
November 3, 2021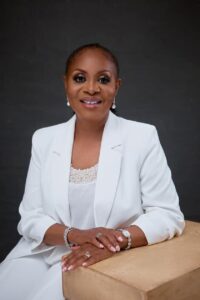 The American College of Lifestyle Medicine has elected a Nigerian, Dr. Ifeoma Monye, as a Fellow of the college, the first African to be so honoured.
Announcing the milestone, her husband, Mr. Sylvester Monye, took to his Facebook page to pour encomiums on the woman who has brought honour not only to Nigeria but the entire African continent.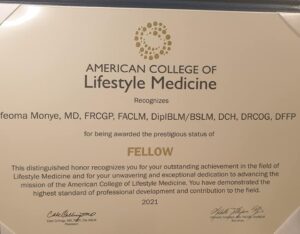 He wrote: "I want to congratulate my dear wife, Ifeoma,  for her election as a  Fellow of the American College of Lifestyle Medicine, the first African to be so honoured.
"Her commitment to Lifestyle Medicine is first class and unrelenting. The College  in her citation, noted that "she has demonstrated the highest standard of professional development and contribution to the field".
"The Fellowship of the American College of Lifestyle Medicine is the highest level of recognition, acknowledging individuals who have distinguished themselves through their contributions and service in the specialty of Lifestyle Medicine.
"Always a trailblazer, Ifeoma is a Founding Regional Director for the British Society of Lifestyle Medicine and Board-Certified in Lifestyle Medicine, Fellow of the Royal College of General Practitioners, Sessional GP, Berkshire Healthcare NHS Foundation Trust, UK, Chief Consultant Family Physician, National Hospital, Abuja, Founder, Brookfield Centre for Lifestyle Medicine, Abuja, the Founding President of the Society of Lifestyle Medicine of Nigeria, and the Lead Author of the first MCQ Book in Lifestyle Medicine.
"Our children and I are so proud of you. Keep on winning!"
Dr. Monye has mentored over 100 doctors from all over the world including Nigeria, Rwanda, Egypt, South Africa, Philippines and the UK.