Messy: Unknown persons block Edo Assembly with sand, remove roof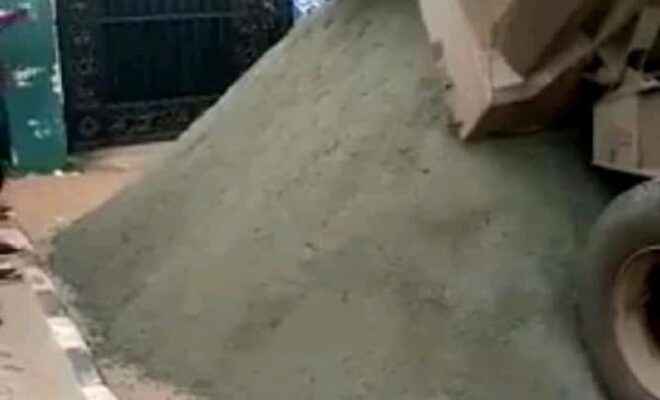 The crisis rocking Edo State House of Assembly has taken a messier and dangerous dimension as unknown persons have removed the roof of the House, took down the symbolic mace and blocked the entrance with truck-loads of sand.
The police who had earlier arrived and taken positions on the premises have continued to appeal for calm, preferring to talk to the opposing camps rather than use brutal force.
The Edo House of Assembly on Wednesday impeached its Deputy Speaker, Yekini Idaiye over alleged gross misconduct. This may have triggered the mayhem that erupted early Thursday morning with some persons barricading the entrance to the House.
The impeachment was sequel to a motion moved by Henry Okhuarobo, member representing Ikpoba-Okha and seconded by Marcus Onobun representing Esan West.
Okhuarobo said, "Mr Speaker, with me is a notice of impeachment of the deputy speaker of the house signed by two-third members of the house.
"The impeachment of the deputy speaker is on the grounds of gross misconduct and divulging of official secrets," Okhuarobo said.
The lawmakers after deliberations on the petition,  unanimously adopted the motion through a voice-vote.
The Speaker, Francis Okiye, thereafter, pronounced the deputy speaker impeached.
Meanwhile, the house leader, Roland Asoro was made the deputy speaker shortly after he was nominated and administered oath of office and oath of allegiance by the speaker.
The motion for the nomination of Roland Asoro as the new deputy speaker was moved by Emmanuel Okoduwa representing Esan North East and seconded by Ephraim Aluebhosele representing Igueben constituency.
Also during plenary, Henry Okhuarobo, the former chief whip was elevated to the position of the Leader of the house, while Marcus Onobun, deputy leader was made the chief whip and Sunny Ojiezele as Deputy Leader.
Ephraim Aluebhosele was elevated to the position of the deputy whip, while Emmanuel Okoduwa was made a co-opted member of the principal officers' council.