Nigerian Intelligence knew whereabouts of Nnamdi Kanu – Sources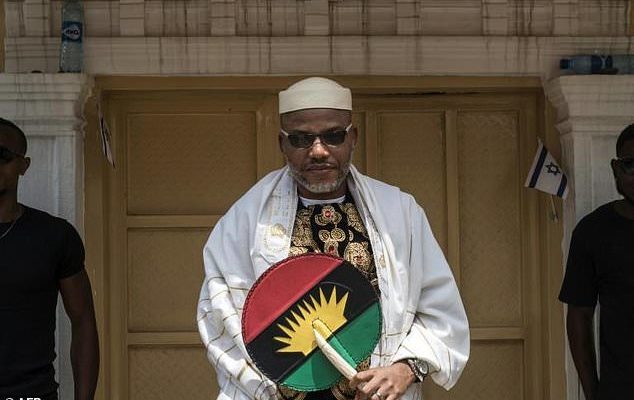 Top security sources familiar with the disappearance of Nnamdi Kanu, the runaway leader of the Indigenous People of Biafra (IPOB) said they knew the whereabouts of Kanu since last September when he mysteriously disappeared from his home amid military raid.
A top security source told our reporter that they have been tracking Kanu's movement from Nigeria to Europe. Kanu is now in Jerusalem where he has been meeting and fellowshipping with Jewish rabbis and faithful. The IPOB leader has never hidden his claim that he is Jewish, an enforcement of general belief that Igbo migrated from Israel.
However while Kanu may be causing a media buzz in Nigeria, Israeli media seem not to mind his presence in Jerusalem as the mainstream Israeli media gave no attention to him. Top newspapers like Jerusalem Post and Haaretz ignored the Kanu story but Times of Israel gave attention to the video of Kanu purportedly shot on October 19 but shown on  October 20.
Kanu according to investigations has been living in Jerusalem for many months and has been a regular face at gatherings of  Jewish rabbis.
Kanu, a former London estate agent, heads the Indigenous People of Biafra (IPOB) movement and the outlawed pirate radio station Radio Biafra. He is facing treason charges and had been on bail at the time troops were deployed to his home city of Umuahia in Abia state, southeast Nigeria, in September 2017.
He then failed to show at his trial in the capital, Abuja, sparking speculation as to his whereabouts.
Kanu's lawyer Ifeanyi Ejiofor said he had "received a direct confirmation" about the whereabouts of Nnamdi Kanu, who has not been seen in public since September last year.
"My client is the very person seen in the pictures/video. That I can confirm authoritatively," he added in a statement.
Ejiofor has previously accused the Nigerian Army of either holding his client incognito or having killed him. The military has denied the charges.
On Friday, a video live-streamed on the Facebook accounts of known associates of Kanu appeared to show him praying at the Western Wall in Jerusalem.
He was dressed in sandals, white trousers, a white Jewish prayer shawl and skull cap.
"This is the supreme leader of the Indigenous People of Biafra, the prophet of our time, Nnamdi Kanu, in the Holy City of David," a voice off camera is heard to say.
Kanu maintains the Igbo people, who are in the majority in southeast Nigeria, are a lost tribe of Israel and it is his mission to lead them to the promised land of Biafra.