All Nigerians must obey the law – Diri; lauds Bayelsa judiciary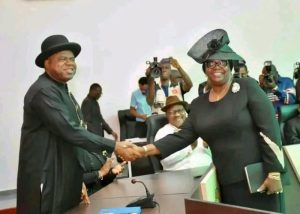 One of Nigeria's major problems is lawlessness, Gov. Douye Diri of Bayelsa, said in Yenagoa on Friday; stressing that all Nigerians must obey the law, both the rich and the poor.
"When Nigerians travel out of Nigeria, they obey the law, but in Nigeria they question security operatives for doing their job,'' he noted at a thanksgiving service to open the 2023/2024 legal year in Bayelsa.
"All of us must obey the law for it is made for the poor and for the rich, irrespective of status,'' he said.
Gov. Diri commended the Bayelsa Judiciary and assured it of increased government support to ensure smooth operation.
The governor also commended the three arms of government in Bayelsa for the harmony existing between them, stressing that without unity, there would be crises and insecurity.
In her remarks, the Chief Judge of Bayelsa, Justice Matilda Ayemieye, said the judiciary had deployed technology, built physical infrastructure and improved on staff welfare in the past years.
"Bayelsa State Judiciary is now a reference point in the use of the Court Recording System as well as the e-filing of cases in the entire country.
"These were possible because of the vision of the past leadership of the Judiciary and the unwavering support from the state government.
"Our Mission is to consolidate on the gains already recorded and open up new frontiers.
"We have started the accessibility project to bring speedy and effective dispensation of justice closer to the people of Bayelsa,'' she said.
The chief judge said efforts were currently on-going to open all courts outside Yenagoa to increase accessibility and reduce the cost of litigation.
"We have started work on the renovation of Magistrates and High Courts across the state.
"It is our hope that by the end of the current year, all courts sitting outside their designated places of session would be fully relocated,'' she added.
Also speaking at the ceremony, Justice Daniel Ayah, President, Bayelsa Customary Court of Appeal, said the opening of the legal year afforded the judiciary the opportunity to review its activities in the preceding year.
The review, he explained, gave the judiciary a firm footing to make projections for the new year.
He noted that the judiciary had continued to make progress in the area of infrastructure.
"Improved funding of capital projects for the Customary Court of Appeal is the magic wand and we appeal for more funding to achieve more results in this regard,'' he said. (NAN)