Obaseki joins PDP but Ojezua still undecided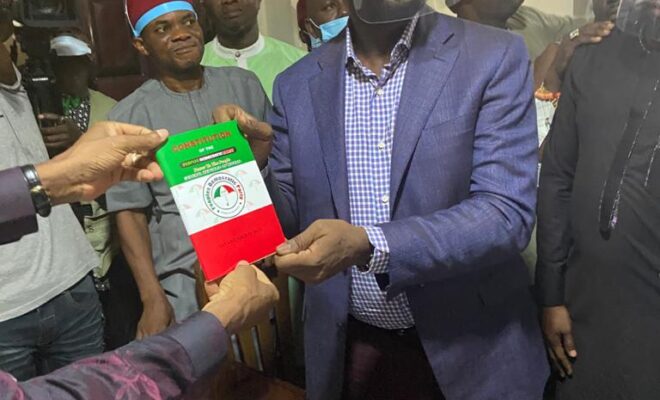 Mr Godwin Obaseki, the governor of Edo State has formally joined the Peoples Democratic Party, PDP, days after quitting the APC. But Mr Anselm Ojezua, factional Chairman, All Progressives Congress (APC) in Edo, did not join the PDP with him after he had earlier said he will not be leaving the APC with the governor.
"I have officially joined the Official Peoples Democratic Party (PDP) Nigeria to advance my ambition to seek re-election as Governor of Edo State.
"I, as always, remain committed to engendering good governance and sustainable development of our dear state," Obaseki announced on his Facebook page.
Obaseki has been tipped to clinch the PDP governorship ticket to run with a deputy to be provided by the core PDP group. This sets the stage for an epic battle at the polls in the forthcoming governorship election.
Ojezua is leading a faction of the APC loyal to Gov. Godwin Obaseki before his resignation on June 16 from the party.
He said on Tuesday in a telephone chat with newsmen that he will not leave with Obaseki.
The governor was last weekend disqualified by the APC screening committee for the Edo 2020 governorship election from contesting the party's primaries based on discrepancies in the documents he submitted.
Obaseki later formally announced his resignation from the party to journalists in Abuja on Tuesday shortly after meeting Buhari.
However, Ojezua said he would not move with the governor as he was elected as chairman of APC with a four-year mandate, which would expire in 2022.
"I won't move. As you can see, I still have my mandate as the elected party chairman of APC in Edo which expires by 2020, and I intend to complete that mandate," he said.